www.orindaben.com
Celebrate the Holidays with Us!
2018: Prepare for your best year ever!
1. Align with Your Life Purpose

Listen to Orin's 4 Free Audio Meditations
Includes Written Transcripts
4 Alignments Series:
Living Your Life Purpose




Align with your soul, divine Self, Divine Will,
and Star Energy for Living Your Life Purpose
---
2.

Listen to Orin's Free Audio Meditation
Calling on the Spirit of Peace

Feel more peaceful and help bring peace to humanity.
Includes written transcript.
---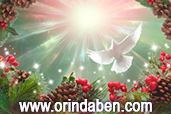 3. New Year's Eve
Join us and all lightworkers throughout the world to
transmit light and peace to humanity for the New Year.
(Both translated into 16 languages)
Join whenever you can, if possible 5 minutes before midnight to 5 minutes afterward.
Listen for your own enjoyment, share with friends,
or play these audio meditations for group gatherings.
Let others know about this opportunity!


Let Us Encircle the World with Peace!
---

Orin and DaBen: Prepare to have the best possible year ahead by aligning with the divine Plan and purpose of your life. I, Orin offer you four free audio journeys with transcripts, links above, to assist you in doing this. These are short, fun meditations you can use throughout the day to be in the flow, aligned with your purpose.
To align with your purpose right now, take a breath in and focus your attention inward. Imagine connecting to your innermost true Self to receive Its light that guides you to create your purpose. Make contact by having the intention to connect, taking a moment to be quiet, and opening to receive. You might even say to your divine Self, "I am open, I am listening."

Your divine Self always responds when you call upon It and gives you all the light and energy that you can accept and use in your life. Picture light pouring into your being from your divine Self. You are willing and open to receive Its gifts of stimulating, transformative, loving, and purposeful light. Connecting with your truest, innermost Self will always assist you in some way to create your best life and unfold your highest future.
If you want, think of an issue in your life that you would like to transform with this divine light, and imagine your innermost Self shining Its light on this issue. Note if anything changes about this issue afterward, either your thoughts about it or the situation itself.
---
Sanaya and Duane: We want to thank you for your support of Orin and DaBen's work. You are the reason for their presence here on earth. All that they do and offer is for you, to assist you in realizing your true, innermost Self as who you are. They are here to support you in experiencing the love, abundance, joy, and peace that lies within you, just waiting for you to claim it.
We send you many blessings for a prosperous and purposeful New Year. ~ Sanaya and Duane
If you would like to get quotes from our books to create your highest future, go to our
Highest Future Room.
---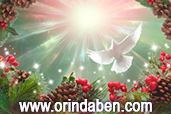 New Year's World Peace Meditation:
We invite you to join with us and millions from around the world meditating on New Year's Eve for world peace. Orin has provided a free full-length audio Peace Meditation to take you into a deep state of peace and to assist you in maintaining and sustaining a state of inner peace throughout the day. As you experience peace, you offer peace to others and contribute to world peace. We invite you to join us before or after midnight your time, to visualize peace for humanity. We have included a
written Positive Vision
to hold for humanity and a
written Peace Meditation
to call upon the Spirit of Peace for world peace.
---
---
These courses offer a unique path of spiritual awakening through experiential, progressive expansions of consciousness that assist you in directly knowing and experiencing the truth of your being. Go here to
read more about the light body courses.
Graduate Light Body Courses:
Read about what is next in the I'm a
light body Graduate
, What is Next?
Light Body Live and Online Seminars:
Read about our
graduate light body seminars
. Next seminar is April 27-May 2, 2018
.
Participate online or attend in person.
---
Orin and DaBen Audio Courses for Transformation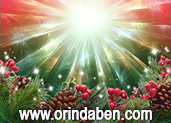 ---
This eNewsletter is being sent to you by Sanaya and Duane at LuminEssence because you have sent us your Email address with permission to receive online eNewsletters from us, or because a friend has forwarded it to you.
Keep your Email address updated:
If you wish to continue to receive these occasional eNewsletters, please let us know if you change your Email address. You can do this in the
Member's Area
by logging in with your original email, and then using the link "Change Email Address Associated with This Account" to enter your new email address. Or, you can email us.
Privacy policy: Your privacy is very important to us. We do not sell or rent your name, email address, or any other information about you to anyone.