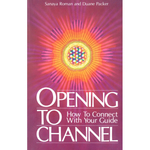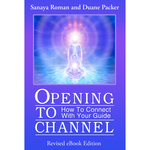 Recommended Reading Now available in printed and eBook formats!
Orin and DaBen's Opening to Channel book contains important information about how to make a connection to your guide. Thousands have learned to channel using the safe, simple, and effective techniques in this book. Learn how to tell if you are ready, what a trance state is, how guides transmit messages, your role as a receiver and translator, who the guides are, how to recognize high-level guides, how to attract a guide, what to expect, and more. Use this book while you are working with the audio courses.
Sections 1, 3, and 4 are also available as the Opening to Channel abridged audiobook (OTCE) Read by Sanaya and Duane, transmitting energy from Orin and DaBen as you listen.
Section 2 of the book on how to Channel is available as the Opening to Channel audiocourse (C101) by Sanaya and Duane, Orin and DaBen.
View all Channeling Products and all Channeling FAQ's
Read Excerpt from Opening to Channel Book
What is Channeling • What is Conscious Channeling
What to Use Your Channeling For • How to Tell if You are Ready
You May Be More Ready Than You Think
Recognizing High-Level Guide
Recognizing Entities Who Are Less Evolved
Receiving Guidance and Answers to Your Questions
Receiving Guidance from the Higher Realms
Orin's Path of Self-Realization

Receive a personal affirmation about your channeling here.
We are glad to know that you are interested in channeling, or that you already channel. Included below is information that may assist you as well as answer some of your questions.
If you are not yet able to Channel


All the information we have about channeling is answered in Orin and DaBen's Opening to Channel book, available in printed and eBook formats.
We also have an Opening to Channel audio book of Sections 1, 3, and 4 that you may enjoy listening to. The processes given in the printed and eBook will assist you to channel a guide or your higher self.

Sanaya and Duane are no longer holding the Opening to Channel Seminars as described in the book. However, they have made the seminars into an audio course which works with the book. If you are not yet channeling, and simply want an inner connection to a guide, you may want to work with Orin and DaBen's Opening to Channel (C101) audio course (newly remade for 2013), and continue to strengthen your connection to your guide with Orin's new channeling course, Connecting with Your Guide, Receiving Clear Guidance (C201).
Orin believes that listening to guided meditations, where you work with your conscious mind, subconscious mind, and Higher Self, is one of the fastest, most effective ways to change your reality. Orin feels listening to guided meditations, when your mind is in a relaxed, open state, is a powerful and effective way to create lasting changes and assist you to put the principles taught in the book into action. You are welcome to listen to a short meditation Receiving Guidance by Orin in Orin's Meditation Room to receive guidance and answers from within.
If you have been trying to channel, but are having difficulty
It takes time and practice to learn to channel. Trust the information you are getting, and keep working with whatever connection you have to your guide. The connection grows stronger as you continue to work with it. Orin's newest channeling course, Connecting with Your Guide, Receiving Clear Guidance (C201), was made just for you to have more confidence that you are channeling, lessen your doubts that you are really channeling, strengthen your sense that your guide is real, and learn how to receive guidance that is so clear you can trust it and take action upon it.
You may want to simply start talking, whether or not your message feels inspired by your guide, even if it feels as if it is just yourself. Don't expect to be taken over, or to channel on something you haven't even thought of before. Ask your guide a question about an issue in your life, and let yourself speak "as if" your guide were giving the answer. Guides often give us answers that are so obvious that we wonder if we are really channeling. Be sure to record whatever answers you get, and read them back later. You may find that your answers contained a greater wisdom than you were aware of at the time you brought them through.
It is perfectly natural and normal in the process of learning to channel to have doubts that it is real, or that you haven't really made a connection. It is usual to have doubts and to even want to give up in the beginning. Sometimes a part of your personality may feel threatened, feeling it is losing power or control. Continue to practice and record your messages so you can read them back later. Channeling is a skill, and good channeling is developed through practice, persistence, and patience. Endeavor to persevere! Continue to work at it, and you will succeed. The interest you have wouldn't be there unless channeling is a possibility for you.
The Opening to Channel Audio Course with Orin and DaBen


This audio course is a wonderful companion to the Opening to Channel book. It contains the guided meditations taught by Sanaya and Duane at their Opening to Channel seminars. As you listen, Orin and DaBen will join their energy with yours and lead you through each step of channeling, including relaxation, concentration, sensing life-force energy, mentally meeting your guide, and learning to channel verbally. Processes include training to make a stronger connection to your guide, tune into another person, give yourself a reading, and see into the future. To order or for more information.

May I Teach Channeling Classes
You are welcome to teach channeling classes based on our books. If you send us your class dates via our Guest Book, Sanaya and Orin, Duane and DaBen will send your class energy during your class times. If you want to offer audio albums to your class members, you may purchase them at a discount if you order 2 or more of the same item at the same time for your class members and you already own one for yourself at full retail price for yourself; contact our office for more details. Click on the following link teaching the opening to channeling course for more information.
Do Orin and DaBen still give Individual Readings?
Sanaya and Duane do not offer individual consultations with Orin and DaBen.
Do you have a list of Channelers or Orin and DaBen Groups in my area?
You may want to check with your local metaphysical bookstore, we do not disclose information or keep information on study groups, channelers, healers, and so on.
We send you our best wishes for the success of your channeling. ~Sanaya and Duane