Download Cover
[
Click to Print
]
Special Offer*
Save $20.00 Buy C101E and C201E Download Albums for $129.90
The purpose of this album is to support you in connecting with a guide to receive clear guidance, either directly into your mind, or through channeling aloud. Orin will guide you throughout the meditations on how to receive energy from your guide to assist you in removing obstacles to becoming a clear channel. You will learn how to increase your ability to receive breakthrough new ideas and clear, useful guidance as you connect with your guide.
This course can help you improve your channeling at any level of experience with your guide:
If you have tried connecting with a guide but not sure you really have a connection, have doubts, or want the connection to be stronger. If you are just starting and making first contact. If you have been successfully connecting with your guide but feel the connection could be better, or you are not yet bringing through the guidance you need. If you are already channeling and have a good connection, to continue to deepen and strengthen your ability to receive more details and information about whatever you channel on.
You have the ability to receive excellent, accurate, wise inner guidance. There is not something magical or mystical about receiving clear guidance, and this course by Orin will assist you in doing so.
You can receive clear guidance about:
Creating abundance and prosperity • Relationships • Lifestyle questions • Projects • Activities • Upcoming events • Decisions or choices you need to make • Diet • Health • Healing • Body • Everyday situations and much more!
In Part 1 you will learn how to:
Clear obstacles that keep you from establishing a strong connection to your guide • Better sense your guide and know that the connection is real • Remove doubts and concerns about the accuracy of your guidance • Identify and let go of anything that would interfere with getting clear guidance • Trust your guidance
In Part 2 you will strengthen your ability to:
Receive guidance that will provide you with answers and solutions that will unfold the divine perfection that is possible in every part of your life
Channel inspired, creative guidance.
View the bigger picture.
See more of the details.
Look into time.
Get a vision that is clear enough to act on.
We recommend reading Orin and DaBen's Opening to Channel book, which provides you with much information about how to recognize high-level guides, how it feels to channel, how guides communicate with you, and much more.
To strengthen your ability to connect with your guide, we also recommend the Opening to Channel audio course (C101). The C101 course teaches skills not taught in this Receiving Clear Guidance course (C201) such as how to get into channeling states, relax, practice tuning into life-force energy, and a lot of help in making first contact with a guide. The Opening to Channel C101 course also teaches you how to give readings for yourself and others, channel on the future, and more. None of the meditations in C101 are duplicates of the meditations in this album and the two albums were made to work together.
Guided meditations by Orin include:
Part 1 Removing Blockages to Receiving Clear Guidance
You will work in the first part of this course to strengthen your connection to your guide, to better realize that you have connected with your guide, and to remove doubts and fears about channeling. You will discover how to release concerns that you are not really channeling, and develop a better understanding of how clear guidance is given and received. A high-level guide always wants what is best for you, to empower you to become stronger, wiser, and better able to create the life you want.
Program 1: Connecting with a High-Level Guide—You will be guided to meet or to deepen your connection to a high master guide, either a new one or your current guide, whose purpose is to assist you in living the best life possible, aligned with your higher purpose, and to provide you with clear guidance to support you in doing so. You will be guided to receive information about who this guide is, get your guide's name, and increase your ability to sense that your guide is really present. This journey is useful whether you are meeting your guide for the first time, or have worked with your guide for years. If you already have a connection to a guide, this journey can assist you in deepening your connection, or in finding a new guide.
Program 2: Removing Blockages to Connecting with Your Guide—Receive energy from your guide to assist you in releasing doubts or fears that may stop or hinder you from making this connection. These might include a concern that you are making it up, a feeling that you do not need any help, thinking that no answers exist anyway so why ask, or simply forgetting that you can turn to your guide to assist you. You do not need to sense or feel your guide in any way for your guide to be present and to assist you.
Program 3: Strengthening Your Ability to Receive Guidance—Your guide will assist you to better trust the guidance you receive, accept the way it comes through, the form it takes, and how much or how little you receive. You will explore how to be more aware of the guidance being sent to you from your guide. You will expand the qualities of trust, acceptance, patience, self-confidence, and perseverance to increase your ability to bring through clear guidance.
Program 4: Orin Talk: Recognizing Guidance You Can Trust—This is a talk by Orin about how to recognize guidance you can trust, and how to sort through what guidance you want to follow, or not.
Program 5: Releasing Doubts and Fears to Receive Clear Guidance—Your guide will work with you to assist you in releasing doubts, fears, and concerns you may have about receiving higher guidance so you can receive accurate, clear guidance that uplifts and inspires you. Some of these may be concerns that the guidance you get may be wrong, misleading, or will not bring you the results you seek, worry that the guidance will be hard to follow or not what you want to hear, a feeling that you are not capable of getting clear guidance on some issue, or receiving conflicting guidance at various times.
Program 6: Letting Go of Expectations, Attachments, and the Past for Clear Guidance—Learn how to get into the clearest channeling state possible to bring through guidance that is free from being influenced by attachments, limited thinking, strong desires, judgments, opinions, and past memories. You will work with your guide to clear emotions, thoughts, and beliefs that would interfere with your ability to receive clear guidance.
Program 7: Receiving Clear Guidance, General Process for Clearing Obstacles and Limitations—This is a guided journey you can use get into the clearest possible channeling state, using all that you have learned in programs 1-6. You will then link with your guide to receive clear guidance about some area of your life.
Part 2 Expanding the Guidance You Receive
The journeys in Part 2 will assist you in receiving clear guidance from your guide to manifest the divine perfection, plan, purpose and blueprint of your life. You will expand your ability to channel breakthrough information and solutions. You will work with your guide to open up new possibilities and potential for your life, such as for your relationships, health, prosperity, projects, and career. These journeys will assist you to open up stuck places, gain understanding about your life and circumstances, receive guidance to help you make a decision or choice, and to know when and what actions to take so you can create your highest good in every part of your life.
Program 8: Exploring Divine Perfection and Infinite Possibilities—Journey to a place of great light, the light of unmanifest potential, of divine perfection. You will work with your guide to learn how to tune into the divine perfection and the divine plan, purpose, and blueprint that exists within all situations, circumstances, activities, and relationships, waiting for you to recognize and unfold it. You can gain more vision of the possibilities and potential that exists for every part of your life. You can break through past limitations and stuck areas and make choices and decisions that lead to more love, harmony, and peace.
Program 9: Viewing the Bigger Picture—Link with your guide to get an overview, a bigger picture of any part of your life about which you want clear guidance. Orin will teach you more about how to work with your guide and how guidance comes through when you are looking for the larger picture. With this understanding you can better know what to focus on, what to let go of, what is important to know about, and what is not. Opening up one area of your life in the way you will learn to do can open up possibilities that did not even exist before for your entire life.
Program 10: Looking into the Details—Fine-tune your ability to work with your guide to receive clear guidance about whatever level of detail is needed and perfect for you to be aware of about any situation or circumstance. Your guide will assist you in looking at details that are important for you to know about to bring about the divine perfection that is possible. Bringing through the details your guide is showing you can reveal new ideas, directions, and actions that you were not aware of previously.
Program 11: Playing with Time—Your guide exists in a world of no-time and can assist you in gaining insights about some area of your life by viewing it from a future viewpoint. You will view the future of some part of your life where divine perfection has already manifested at a future date, and from this perspective better know what to do now to bring this about. You will be more able to see what steps to take right now as you get a clearer vision of what is possible.
Program 12: Opening to Creative Inspiration—Expand your ability to be creative and to receive inspiration from your guide so you can discover new actions, solutions, and thoughts. You can better recognize what to do to unfold the divine perfection that is the possibility that lies within all circumstances, relationships, and events. This creative energy feels as if you have become smarter, that your vision has expanded, and your ability to put things together in novel and unique ways has increased. Your guide will assist you in opening to this creative energy and in receiving inspired ideas as you channel on a relationship, prosperity, abundance, health, diet, your body, a project you are working on, an upcoming event for the highest outcome, and a decision or choice you are faced with making.
Program 13: Getting a Clear Vision, Moving into Action—Discover how to work with your guide to create a vision that is clear enough to know what steps and actions to take to create divine perfection in some specific area of your life. This may be a vision that includes your next steps, a possible outcome, and some of the potential that is possible to create right now. You will bring together all that you have learned in this course as well as learn new channeling skills to build a vision of some part of your life that is complete enough to know what action you can take now to bring about your higher purpose in this area.
This course comes with a PDF booklet with transcripts of the journeys and the PDF is available in download format only. (There is no printed version that will be sent to you). The PDF for this product will appear in your Member's Area under "My Downloads" link after purchase for you to view online, or to print.

Also Recommended to Strengthen Your Connection to Your Guide
Orin and DaBen's Opening to Channel, Connecting with Your Guide
This album works well with Orin and DaBen's Opening to Channel: Connecting with Your Guide Audio Course, (C101). In the C101 audio course you will guided by Orin and DaBen, with talks from Sanaya and Duane, to build your skill at getting into channeling states and to experience the relaxation, focus, concentration, and channeling postures that support your connection to your guide. You will make contact with a guide, discover how to verbally channel your guide or receive inner messages, bring through messages for yourself and others, tune into another person, channel about the future, and more. Orin and DaBen join their energy with yours to assist you in meeting and channeling your guide. This contains the processes taught in Orin and DaBen's Opening to Channel book, and is a companion to the book.

The abridged Opening to Channel Audio Book (OTCE) is also available, read by Sanaya and Duane, containing Sections 1, 3, and 4 of the Opening to Channel Book. Section 2, which contains the processes to learn how to channel, is available as a separate product, C101.
Special Offer: Save $20 - Buy the following 2 channeling courses at the same time
Buy the newly revised Opening to Channel, Connecting with Your Guide audio course (C101) and Orin's Connecting with Your Guide, Receiving Clear Guidance audio course (C201) at the same time and save! Make a strong commitment to your channeling and to your guide with this purchase.
Download offer: These 2 download albums are $149.90 if purchased separately. Purchase both courses at the same time for $129.90.
Download offer includes 2 free MP3 Thaddeus music track downloads with purchase.
Note: If you do not have the Opening to Channel book, we suggest that you read it along with taking these courses for a good understanding of guides, channeling, and much more that will help you understanding channeling, and to be successful in connecting with your guide. Opening to Channel printed and eBook (OTC).

Return to Top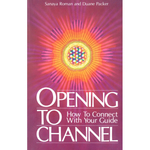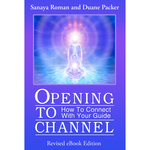 Recommended Reading Now available in printed and eBook formats!
Orin and DaBen's Opening to Channel book contains important information about how to make a connection to your guide. Thousands have learned to channel using the safe, simple, and effective techniques in this book. Learn how to tell if you are ready, what a trance state is, how guides transmit messages, your role as a receiver and translator, who the guides are, how to recognize high-level guides, how to attract a guide, what to expect, and more. Use this book while you are working with the audio courses.
Sections 1, 3, and 4 are also available as the Opening to Channel abridged audiobook (OTCE) Read by Sanaya and Duane, transmitting energy from Orin and DaBen as you listen.
Section 2 of the book on how to Channel is available as the Opening to Channel audiocourse (C101) by Sanaya and Duane, Orin and DaBen.
View all Channeling Products and all Channeling FAQ's
Read Excerpt from Opening to Channel Book
What is Channeling • What is Conscious Channeling
What to Use Your Channeling For • How to Tell if You are Ready
You May Be More Ready Than You Think
Recognizing High-Level Guide
Recognizing Entities Who Are Less Evolved
Receiving Guidance and Answers to Your Questions
Receiving Guidance from the Higher Realms
Orin's Path of Self-Realization

Receive a personal affirmation about your channeling here.