Download Cover
[
Click to Print
]
Divine Manifesting Parts 1, 2, and 3
This is Orin and DaBen's complete 3 part Divine Manifesting course:
Orin's Part 1: Divine Manifesting with the Seven Divine Wills and Your Divine Self MM070
Orin's Part 2: Divine Manifesting: Becoming a Master of Manifesting DW918
DaBen's Part 3: Divine Manifesting with the Light Body LB927 (You will need to be a light body graduate to understand DaBen's instructions in Part 3)
Welcome to DaBen and Orin's Divine Manifesting course!
We have had a phenomenal response from people who have taken these Divine Manifesting course. They tell us of new ideas they have had since taking this course, of wonderful things they have manifested, a new level of peace they feel, a greater certainty that they have the power to create what they want, of synchronicity and doors opening. People wrote of getting funding for their projects, launching their world service in a larger way, and feeling supported by the universe in a way they had never experienced before. People said that they were finding that even the little areas of their life-the daily patterns, events, and activities-were changing, becoming more flowing, effective, and productive.
You can read people's comments here.
Divine Manifesting is much more than learning how to manifest things;
it is about manifesting your whole life in a new way.
Orin, DaBen, and the beings of light are offering these 3 courses in Divine Manifesting to assist you in having a much greater ability to draw to you everything you need to fulfill your purpose. This course was originally taught as a live seminar. DaBen and Orin feel it is very important for everyone who is on a path of light, such as yourself, to be able to manifest everything needed to add more light to the world and to follow your path.
They want to empower you to get your work out to the world, to be doing activities that you love, on your right path, and in harmonious relationships. They offer you this course to assist you in experiencing the joy as doors open, opportunities appear as you need them, and all that you need comes to you. With Divine Manifesting, you can express and experience the beauty, joy, aliveness, freedom, fulfillment, love, and light of your true Self, your innermost Being in every area of your life.
You can read much more about Orin's teachings that are included in this course at Orin's Divine Manifesting Course.
---
Orin's Part 1: Divine Manifesting as Your Divine Self
Sanaya Talk: Why Link with Divine Will? Who Are the Great Ones? Setting Your Intention
Sanaya Talk: What Is Divine Manifesting?
Sanaya Talk: What Is Your Divine Self?
Sanaya Talk: Instructions for Using the Journeys
Manifesting with the Seven Great Ones
Will 1: Power: Releasing the Old, Initiating the New
Will 2: Love: Awakening Spiritual Vision
Will 3: Wisdom: Choosing from Infinite Possibilities
Will 4: Intuition: Creating Harmony and Dissolving Limitations
Will 5: Illumination: Transforming Your Thoughts
Will 6: Inspiration: Expressing the Highest Light Within
Will 7 Perfection: Manifesting the Divine Blueprint
For more information, visit Orin's Part 1: Manifesting as Your Divine Self (MM070)
---
Orin's Part 2: Becoming a Master of Manifesting
Part 2, Becoming a Master of Manifesting includes the following step-by-step Orin meditations to assist you in becoming a Master of Manifesting:
Illumination–Moving to a Higher Octave of Light
Identification–Becoming Your Divine Self
Alignment–Building a Bridge of Light to Your Divine Self
Purification–Refining Your Aura
Inspiration–Receiving Divine Ideas
Love–Giving Life to Your Creations
Intention–Creating the Etheric Blueprint
Freedom–Clearing Obstacles to Manifesting
Action–Finding the Shortest Path to the Goal
Completion–Manifesting the Form
Divine Manifesting with the Sacred Transmuting Flame
Evolving Your Desire Body
Birthing a New You
Integration–Bringing It All Together
Note: PDF booklet with transcripts is an online product (there is no printed version that will be sent to you). The PDF for this product will appear in your Member's Area under "My Downloads" after purchase for you to view online, or to print.
---
Part 3: DaBen's Divine Manifesting with the Light Body audio meditations.
Become a Master of Manifesting Using Light Body Skills
Learn how to become a master of manifesting using light body skills, so that what you manifest brings you more joy, peace, and harmony. You will explore Divine Manifesting, learning to recognize who you truly are, the Source that you come from to be here on earth. With this connection to Source you can gain a larger context from which to view your life, and thus better know what to manifest.
When you manifest aligned with Source, whatever you create will be more lasting, serve you well, and have the broadest application in a very practical way on the earth plane. What you manifest will not only contribute to your life, but also contribute to the reason you are here, and the contribution you came to make.
You will learn light body skills to hold both Source energy and left-brain, intellectual energy at the same time, so that you can recognize more in each moment about what decisions to make, ideas to hold, words and behaviors, connections and relationships, and the forms to bring about that would best express Source energy.
Discover New Possibilities
The more deeply you can reach into and experience Source energy, the greater the possibilities, the more expanded your consciousness, and the better you become at manifesting. From your connection to Source, you will find these energies translate back for you as fresh insights and thoughts, new perspectives, and original solutions that guide you to manifest your greater potential in every area of your life. In DaBen's guided meditations you will be led to discover new forms, ideas, activities, situations, relationships, and aspects to your life that you may not have even thought of as possibilities in the past.
Manifest a Dream, Live in a New Rhythm, Shift Stuck Areas
You can use what you will learn in this course to manifest a dream, shift an area in which you feel stuck, live in a new rhythm, achieve a new quality of consciousness, and receive new, higher visions of your life and purpose. You can recognize your next steps and create something fresh and wonderful in your life that your personality has not even envisioned yet. You can learn to trust that you will receive the guidance you need in every moment, and let go of worrying about the future.
Expand Your Consciousness to Change What You Manifest
DaBen and Orin offer you many shifts to a higher consciousness as you listen to the audio meditations in the Divine Manifesting courses. You will usually know a shift has occurred. It may feel as if you have reached a level of peace and harmony where the answers become clear, where you know what actions to take, or what forms to manifest. As you expand your consciousness you can manifest those ideas that bring the greatest joy, insights, or expansions of consciousness.
Learn Light Body States for Divine Manifesting
To become a master of manifesting, you will be guided to find the inner space from which all Divine Manifesting work is done–a center of illumination and stillness, in contact with the highest of worlds and your Source, and feeling the peace and stillness of Consciousness Itself. You will learn light body states of intuition, illumination, and inspiration, bringing all of these together for Divine Manifesting with the light body.
Know What to Manifest
DaBen will guide you to receive clear ideas about forms to create that would match the Source energy you contact, getting as much detail as you can, bringing through many ideas about possible forms that might work. You will learn how to notice the potential in each idea, getting as great a match as you can to what you observed at the higher levels to the forms and expressions of that energy. You will find as energy and learn how to better manifest objects, connections to people, knowledge, ideas, and new circumstances.
DaBen will teach you ways increase your ability to live in moment–to–moment awareness so you can become more aware of the potential in every moment and make more conscious choices to bring this potential into manifestation. You will discover how to get more detail about what to manifest and how to manifest it.
Identify and Release Whatever Stands in Your Way of Manifesting
DaBen will lead you on meditations to discover and release whatever thoughts, ideas, beliefs, and so on, that stand in the way of your manifesting, so you can be more effective and create better results. You will examine what you might add, shift, or let go of to create a more beautiful life. You do not need to tolerate forms and circumstances that do not serve you! You do not need to feel trapped, to live a daily life you do not enjoy, to sacrifice peace and happiness, or to accept less than you really want and deserve.
Divine Manifesting is not about compromising; it is about creating a life you love, with satisfying relationships, pleasurable activities, and joyful work. It involves drawing beneficial forms and circumstances into your life, creating a life of joy, love, harmony, peace, inspiration, wholeness, and freedom.
Divine Manifesting Through Resonance and Intuition
Some of the elements of manifesting cannot be brought into consciousness easily, so you will explore using your intuition as a way to bridge those areas and know more about how to bring about creating what you are manifesting. Not all manifesting occurs in form. Sometimes you are manifesting ideas, connections, energy awareness, and expansions of consciousness. You will explore in depth how what you are manifesting is brought into being, through radiance and resonance.
Receive Transmissions from DaBen and Orin and the Beings of Light
You will be sponsored by many beings of light during your study of this course, including DaBen and Orin, to assist you in preparing for and getting the most out of this course. DaBen and Orin will transmit to you individually those energies that are next for you.
Part 3: DaBen's Divine Manifesting with the Light Body
There are many additional talks by Duane about Divine Manifesting, besides those listed below:
DaBen: First Exploration of Reaching to Source, Whole and Complete Space
DaBen: Reaching to Source, New Level with Awareness of Solidity of Connection
DaBen: Noticing More Details, Making Experience or Energy More Beautiful, Translating Back
DaBen: First Exploration of Finding Energy and Translating Back to Thought or Idea
DaBen: Exploring Translating Energy Back, Thoughts or Ideas
DaBen: Deeper Translating Energy Back, Range of Thoughts
DaBen: Adding Clarity of Potential to Energy and Creativity to Forms as Translated Back
DaBen: Resonance and Radiance Translating Back to Emotional Flow, Being Magnetic
DaBen: Bringing All Elements Together and Playing with Flows
Duane Talk: Finding Things as Energy and Manifesting
Duane Talk: Manifesting an Object
Duane Talk: Manifesting Connections to People
Duane Talk: Manifesting Knowledge
Duane Talk: Finding the Right Form to Fit Energy
Duane Talk: Manifesting Skills
Duane Talk: Trusting You Are Manifesting Right Thing
Duane Talk: Answers–Handling New Ideas
DaBen: Finding Things as Energy, Overview
DaBen: Experience from Source to Connection to Details to Forms to Resonance with Gratitude
DaBen: Exploring Your Connection to Expanding Consciousness and/or Motivation
DaBen: Oneness, Exploring More of Solidity of Connection
---
Prerequisites To understand DaBen's instructions and experience the wonderful expanded states of consciousness he offers, you need to be an Awakening Your Light Body graduate with knowledge of the 7 vibrational energy and 3 light body centers as taught by DaBen through Duane Packer.
---
Save $74.95 - Buy all 3 Divine Manifesting courses above at the same time and save. Order by adding these to your cart above.
Cost would be $499.95 for CDs and $424.95 for MP3 downloads if you purchased these 3 courses separately. All 3 parts of this Divine Manifesting course work together to give you a more complete understanding of how Divine Manifesting works. You can read more about each course by clicking on the link above. If you are not a light body graduate, you can take Orin's courses on Divine Manifesting which do not include any light body teachings.
---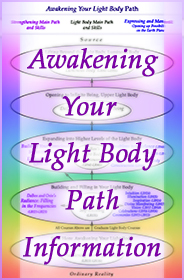 This course is taught at the Self-Exciting/ Frequencies level where you are building and filling in your light body. This course assists you in expressing and manifesting these light body spaces on the earth plane. Click on the small color graph "Awakening Your Light Body Path Information" for a study guide that explains the light body path and how the graduate courses relate to each other.
Note: You need to be an Awakening Your Light Body Graduate to take this course and to understand DaBen's instructions. If you are not a light body graduate, you can purchase Orin's Divine Manifesting Course Parts 1 and 2 , without DaBen's light body teachings. DaBen's course was made to go with Orin's Divine Manifesting Course, Parts 1 and 2 (DW917). While it is not required, we highly recommend taking Orin's course as it will give you a more complete understanding of Divine Manifesting.
---

If we have your Email address, you can receive special messages from us just for you, a Light Body graduate, in our Light Body eNewsletter. We send these 2-4 times a year, and they can include links to online audio light body meditations as well as current seminar information and other light body news. If you have not yet given us your email address, need to change your email address, or if we do not know you are a light body graduate, please create a membership, log-in and let us know about you and to receive our free newsletter. You can also sign our Guestbook to let us know about you and to receive our free newsletter. All information you give us is confidential; we never share or sell your contact information.

---
---
Dear Light Body Group, these upcoming courses have been canceled.
We have left them available for you to see what Duane and DaBen had planned for these classes and the dates should you desire to meditate at that time.
Your Light Consciousness
Mini-seminar Series - Light Body Explorations
Four monthly half-day mini-seminars, more than 20 DaBen journeys
LB507E
$375
Part 1 16 June 2023, Part 2 14 July 2023, Part 3 11 August 2023, Part 4 8 September 2023
Expanding Awakening Light Body Consciousness
Mini-seminar Series - Evolving Awakening Light Body Consciousness
Four monthly half-day mini-seminars, more than 20 DaBen journeys LB142E $375
Part 1 23 June 2023, Part 2 21 July 2023, Part 3 18 August 2023, Part 4 15 September 2023
Being Your Unique Light
Main Seminar, Second of Two in a New Series - Being Light
Three days, more than 25 DaBen journeys LB986E $575
20 through 22 October 2023
Choosing Light
Mini-seminar Series - Light Body Explorations
Four monthly half-day mini-seminars, more than 20 DaBen journeys LB508E $375
Part 1 8 December 2023, Part 2 12 January 2024, Part 3 9 February 2024, Part 4 8 March 2024
Weaving Consciousness Expressions
Light Play Seminar, mini-seminar format - Being of Light following October 2023 Main Seminar LB986E
Four monthly half-day mini-seminars, more than 20 DaBen journeys LB722E $375
Part 1 15 December 2023, Part 2 19 January 2024, Part 3 16 February 2024, Part 4 15 March 2024
---
Prerequisites for all light body graduate seminars:
You need to have completed DaBen's
Awakening Your Light Body six-volume course
or have taken it with a teacher to enroll in any of the graduate light body courses above.
To participate in the two-day Light Play seminars, you will need to have taken the Main Seminar as a prerequisite, as the Light Play seminars build on what was taught in the three-day (Friday through Sunday) Main seminars.
There will be four mini-seminars (Fridays, 9AM-12PM PST) offered in-between the April and October seminars for graduates of the Main seminars.
What preparation do you need to get the most out of DaBen's seminars?
You can have wonderful, expansive, and breakthrough experiences at all levels of study as you get into the energy spaces DaBen is transmitting. Success with DaBen's meditations is not about keeping up with the group or getting the same thing as everybody else is getting, (because everyone will have a completely unique experience as well). It is about opening to the individual opportunities that are the right ones for you.
During each journey DaBen transmits to you
whatever energies are next for you.
Each light body meditation can bring you incredible experiences and life-changing realizations. You will experience exactly what you need to shift into higher consciousness in whatever way is perfect for you. You can experience states of consciousness that are peaceful, flowing, expansive, mystical, and deeply transformative as you participate in DaBen's seminar journeys. Each DaBen meditation offers you an opportunity to experience unique, memorable, and insightful experiences that will expand your consciousness.
DaBen's goal for every seminar is to offer you a significant shift in consciousness that is part of a larger path of reaching new and higher states of consciousness with each course. DaBen's goal for every journey is to offer you an opportunity to have a memorable experience. You can listen again and again, continuing to have peak experiences as you do.
In the upcoming seminars,
DaBen will offer you yet another immense shift in consciousness.
Each seminar is designed to be experienced and enjoyed without needing to complete the previous seminars in the series. However, every light body course you take will enhance your ability to experience what is being taught in the seminars.
As you open to the energies being offered you can shift into as high a space as you are able to experience. DaBen's transmissions will assist you in opening to a vastly expanded perspective of your life from a higher level, often from beyond the earth plane. In this seminar series, you will reach these higher planes by going through portals, getting to meet and work with some amazing, highly evolved beings as you do.
As a metaphor, you might think of living in one room, where your perspective comes from just that room. Then one day you walk outside the room, and see that room is part of a house, with a whole environment around it. It completely changes your perspective of your room and your life in it. DaBen equates the room to living from an earth plane consciousness.