Translations of the Light Body Manuals | Making Light Body Audio Recordings
Internet Teacher's Listing on our Website
Internet Advertising | Guidelines for Playing DaBen's Journeys During Your Classes
DaBen Journeys to Play for Your Classes
Official Language Albums: Dutch | French | Hebrew | Japanese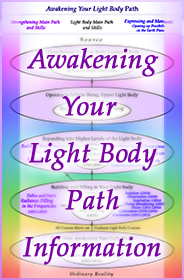 Light Body Study Sequence Chart - to assist you in understanding how the light body classes fit together.
Click on the small color graph "Awakening Your Light Body Path Information" for a study guide that explains the light body path and how the graduate courses relate to each other.
Note to Graduate Light Body Students from Duane and Sanaya:
Teacher's Note: We now have artwork available you can use on your flyers. View the link for more information.
Please read our teacher's announcements for current information. You are responsible for notifying LuminEssence of any changes in your data, including information on completed Light Body courses that are not included in your listing. Please allow up to a week for any changes you give us to appear in your listing.
To Our International Light Body Teachers and Sponsors
Please read the General Teacher's Information; this is supplemental information for our International Teachers.
Go to Qualifications to Teach for all the Requirements and Qualifications for Teaching Light Body Courses. This also includes information on reporting requirements, teacher's guides, and more. Go to Teaching Materials for teaching materials information.
You can use Thaddeus' music for your classes, royalty-free. Read more about this at Permission to use Thaddeus' music royalty free. We have suggestions for what music to use for the light body centers available. You can view additional information about each music piece. All Thaddeus' music is approximately 30 minutes in length and is made to use as background music for your meditations. To listen to Thaddeus music samples, and to order, go to the Thaddeus' Music Listening Room. If you want to sell this music to your students and purchase it at a discount, go to our wholesale policies.

Privacy Policy / Sending us the Names of Your Students
Please log in and in the members area, go to the Light Body Teacher's link to give us the names of your students and class dates. We need to create a record for each student so we have something in our database to attach to your record and to note the Light Body skill level of the student, which continues to be updated as you let us know of other classes they take with you. It is how we know if they should call that they are your student and we can then refer them back to you, and we have some history of them.
Color Light Body Image Now Available to Use for Your Flyers and Website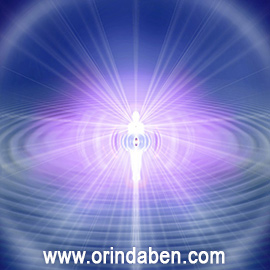 We have prepared an image that we are making available to all Awakening Your Light Body Teachers for a small fee and a signed agreement. We are hoping that by providing an image of the light body that all light body teachers can use, it will become an easy way for people seeking light body classes to identify light body teachers who are teaching the light body as originally taught by DaBen through Duane. We will be allowing all Light Body teachers the use of this background image, without the words, in specific ways to promote your light body classes, with a signed agreement with LuminEssence.
We realized there are many ways to use an art image, and want to keep the light body image special, as something that identifies that you are teaching
Awakening Your Light Body
classes. To do so we realized we needed to be clear (thus the agreement) about how the art image of the light body can be used. You can
view the agreement here
.
Translating the Six(6) Part DaBen and Orin Awakening Your Light Body Journeys Into Your Language, Making Audio Recordings of Your Light Body Class Journeys
You may record your live light body seminars, and give recordings of that particular seminar to those who attended that seminar. Please do not make audio recordings of your seminars available to people who haven't attended that particular seminar. Do not make recordings of one seminar available to people coming to another seminar, even though the processes and teachings are similar.
If people want to learn the light body, they will need to attend your live seminars, or buy the 6 part DaBen and Orin light body course, or the official light body course for your language, if they exist. (Currently we have Dutch light body recordings by Roland Verschaeve, French recordings by Artesa, and Japanese audio recordings available by Bill Eidson & Ana Harada). We have Hebrew recordings by Tamar Tuv El (formerly known as Elysolaria El). See below for more information.
Translations of the Light Body Written Materials
Many of you who are light body teachers write to ask if you may translate the written material that accompanies DaBen and Orin's Awakening Your Light Body six- part course into your native language for your students. This is fine, as long as you make your written translation only available to your students and do not sell it to people who have not taken your light body live seminars.
If you have a translation that you would like us to consider as the "official" version for your language, call our office or send us your version of the manual for review and consideration.
Please note any official translated versions of the manual will need to be typeset and officially produced by you and sold through your organization. You will need to have our permission, and sign an agreement with us, before you sell or make your translated manuscript available to anyone other that the students who attend your live seminars. Some people have translated the manual into other languages on their own, and we have heard that they are selling them. Unless a manuscript has been deemed the official manual for your language, please do not assume that the information in these unofficial versions is correct, and do not use them for your classes.
Return to Top
We will need a signed Teacher Agreement from you before you start teaching
The Awakening Your Light Body Teacher Agreement is available in the Free PDF Teacher's Guide, and in the back of the manual that comes with the Radiance: Transmitting Light course, or from your light body teacher. You can also download the Teacher's Agreement then sign and send it to us.
The Radiance: Self-Exciting Teacher's agreement is available in the back of the manual that comes with DaBen's Radiance: Transmitting Self-Exciting Teacher's course, or through your teacher. You can download the Self-Exciting Agreement as well.
Internet Rules for Advertising Your Awakening Your Light Body Classes
You may announce your Awakening Your Light Body classes on the Internet. If you do so, it is assumed you are following all the rules and agreements for being a teacher. You may not sell or rent DaBen and Orin's 6 part Awakening Your Light Body course or any other light body courses over the Internet or at a retail outlet.
Listing on Our Website as a Light Body Teacher
If you are teaching light body classes and use this form to be listed as a teacher on our website. Please note, we will need a signed Teacher's Agreement from you before you can be listed on our website. View our current listing of light body teachers. These are teachers who have chosen to be listed on this website and who meet all requirements, have signed a Teacher's agreement with us, returned our Internet form, and are teaching in accordance with our policies.
Linking Your Site to Our Website
It is fine to link your site to ours if you wish your students to see your name on our teacher's list or to read more about the light body. Please let us know that you are linking your website to ours.
Return to Top
Guidelines for Playing DaBen's Journeys During Your Classes
As an Awakening Your Light Body teacher giving classes outside the USA, you agree to play certain of DaBen's journeys for your classes so that your students can experience DaBen's transmissions of the light body energies. We feel it is important for your students to experience the growth and shifts that are possible from receiving DaBen's energy and light transmissions, whether or not they speak English. DaBen's transmissions of the centers offer people frequencies of light that go beyond anything that he has yet taught, offering people an opportunity to open many doorways into higher dimensions of themselves and of the universe. Students can receive the benefits of these transmissions and all the shifts they offer without needing to understand DaBen's instructions in English.
Please use the DaBen journeys from the 6 part set as indicated in the" DaBen Journeys to Play for Your Classes." We have an album called the International Light Body Study course that you can order of these 9 DaBen meditations to play for your classes, plus 3 suggested DaBen journeys. Your students may purchase and listen to them outside of class times if you do not play the 9 journeys during your classes. The set includes the 9 DaBen journeys you are required to play for your classes, as well as the 3 suggested journeys. Order the International Light Body Study Course which includes the English transcripts of all journeys by DaBen. (LB001T above). 12 DaBen Journeys
Teachers tell us that their students are able to experience and benefit from DaBen's transmissions of the centers, even without understanding the language or instructions in the course. Some teachers have facilitated their students experience of DaBen's journeys by:
Translating the audio instructions for their students as a handout, which their students read in advance of doing the journey.
Turning the audio player to low volume during DaBen's instructions, and translating the instructions for their students. Teachers pause during DaBen's transmissions, so that their students can experience DaBen's transmissions of the centers.
Instructing their students to find the energy behind DaBen's words, for he is always transmitting energy even while he is giving instructions. Your students can have a wonderful experience of the energies and spaces DaBen is transmitting simply by finding and paying attention to the journeys at this level. Many English light body students do the journeys without following DaBen's instructions, finding that they have deep and powerful experiences of the light body energies by tuning out their mental body that needs to listen to and follow instructions, and simply finding and following the energy that DaBen is transmitting instead.
DaBen Journeys to Play for Your Classes
DaBen journeys to play for class set 1 on the Nu'a, Dinia, Leow, Mumin and Ranthia:
Part 1, Program 3--Nu'a, Dinia 3rd Journey
Program 8--Nu'a, Dinia, Leow; and Part 2, Program 4--Explorations of the Ranthia
You are welcome to play other journeys from Part 1 and Part 2 for your classes. Also suggested: Part 1, Program 2 and Program 7; Part 2, Program 1.
DaBen journeys to play for class set 2 on the Traeo, Pieah, and Renawre:
Part 3, Program 4--Exploring the Renawre Cocoon
Program 10--Entering the Void; and Part 4: Program 5--Experiencing the Centers as Planes
You are welcome to play any other journeys you like from Part 3 and Part 4 for your classes.
DaBen journeys to play for class set 3 on the light body centers:
Part 5, Program 5--Fullonia Intensity; Program 9--Fullonia/Saha: Power
Part 6, Program 5--Vee: Pollination of Flower
You are welcome to play any other journeys you like from Part 5 and Part 6 for your classes.
In talking to many teachers of all languages, we have found that the biggest challenge to teaching the light body is not the language, but the shifts that the students must make in their beliefs to allow them to integrate what they have experienced in awakening their light bodies. This includes such things as teaching people that it is possible to change their lives by working with light, that they can create things in the physical world by working on them as energy first, and that they can use the light body to shift their emotions, thoughts, and physical energy body. Concepts such as transmission, placing radiance, and working with the subtle energies will need to be conveyed and taught as much as the centers.
International Light Body Albums are available:
Go here for information on requirements and suggestions for using these albums.
Dutch Light Body Courses
Made by Roland Verschaeve
Light Body Institute Belgium
Sint Jansstraat 8 8000
Brugge, Belgium
Phone: 050 33 66 97
Fax: 050 33 19 93
www.lightbodyinstitute.com
www.orindaben.be
Licensed for all light body courses, and most of Orin's courses.
These are suggested as study courses for all light body students studying the light body in Belgium and the Netherlands.
French Light Body Courses
Made by Artesa
5 Bd Brune, La Grognarde
Marseille, 13011 France
Phone/Fax: 33-491-351373
Email: franck@artesa.org
Website: www.corpsdelumiere.com
Licensed for Awakening Your Light Body, Self-Exciting, and Frequencies courses, and some of Orin's courses.
These are suggested as study courses for all light body students studying the light body in France.
Hebrew Light Body Courses
Made by Tamar Tuv El
Bicurim St. 34
Haifa, Israel 34577
Phone: 972-04-8100807
Email: tamar@vmail.co.il
Tamar is licensed for Awakening Your Light Body; Radiance: Self-Exciting and Frequencies, and Radiance: Transmitting Light. These are suggested as study albums for all light body students studying the light body in Israel.
Japanese Light Body Courses
Made by Ana Harada & Bill Eidson
Castles in the Sky
P. O. Box 3757, Fresno, CA 93650
Phone (888) 744-6466
aharada@shingnon.org
Japan address
4-26 Nakano-Cho
Ikoma City, Nara, Japan 630-0267
Phone: (011)81 743 75 5537
Licensed for all light body and Orin courses. Their light body courses are required for all light body students studying the light body in Japan.
We offer our thanks and congratulations to our light body teachers above who have translated the light body materials, and made the light body albums available in the above languages.
---
Feel free to share this course with others once you have completed all six courses in this series (Parts 1-6) and are an Awakening Your Light Body graduate. However, permission is given for you to share these light body journeys with one other person who is a partner, spouse, special friend, or loved one who wants to take this course with you at the same time.
We ask that you do not copy this course onto any format for sharing. You may not post these audio journeys on the Internet. Please do not copy or transfer these copyrighted journeys to other people via audio listening devices, other digital media, file sharing programs, or other methods. Please review our Copyright and Permissions page.
We have repeatedly found that when people are ready for the course, their soul, higher self, guides, and the Divine within will provide them with all the resources they need to take this course. Our experience teaches us that those who purchase or make an investment in the course not only value the course, but finish it as well. Thank you for assisting and supporting us in keeping the work out in as pure a form as is possible.

---
DaBen and Duane's Upcoming Live Graduate Seminars
Work with your guide, travel into realms of light, and receive energy from Luminous Beings for

A Series of Live Seminars by Duane and DaBen
2014-2015 Live Seminar Schedule
In this series of seminars you will join with your guide throughout DaBen's meditations. You will meet and work with Luminous beings who have many gifts of consciousness to offer you to assist you to evolve into your Luminous Body. This is a body of light that exists in a higher realm than the light body, but also includes your light body. Your Luminous Body allows you to receive and open to more of the illumined consciousness and infinite potential that lies within you. You do not need prior experience channeling a guide to participate in these courses, however you will have an opportunity during the journeys to work with your guide as you explore new realms of light. You do need to be a graduate of DaBen and Orin's Awakening Your Light Body six-volume course.
DaBen's Individual Transmissions
DaBen will transmit to you individually whatever energies are next for you as you listen to his meditations or call upon him, whether you come in person or take the seminar remotely.
Seminars are Open to All Light Body Graduates
No light body graduate courses are required to participate, however you do need to be an Awakening Your Light Body basic course graduate as stated above, so you will understand DaBen's instructions. You can take any course in the Luminous Body series whether or not you have studied the prior course, and the courses can be taken in any order. With each course you will gain ever-expanding consciousness.
While the seminar courses are sequential and build on each other, DaBen does a quick review of earlier stages of the Luminous Body in each seminar so you can participate in any seminar without studying the previous seminars in this series. Any previous graduate light body courses you have taken will allow you to experience in more depth the spaces being offered.

Duane has provided 7 Preparatory journeys, the same for each of the six upcoming seminars to assist you in preparing for this course that are available to listen to with your seminar deposit.



Part 1: Discovering Your Luminous Body
23 DaBen meditations and talks, PDF with transcripts, and artwork.
Audio is studio quality, digitally edited.
Recently taught as a live seminar, this course is now available! (LB961E)

P

art 2: Building Your Luminous Body
22 DaBen meditations and talks, PDF with transcripts, and artwork.
Audio is studio quality, digitally edited.
Recently taught as a live seminar, this course is now available! (LB962E)


April 25-27, 2014
Redefining Connections from Your Luminous Body
Duane/DaBen Graduate Light Body Seminar
Friday, Saturday, and Sunday


October 24-26, 2014
Expanding Your Luminous Body
Duane/DaBen Graduate Light Body Seminar
Friday, Saturday, and Sunday

April 17-19, 2015
Refining Your Luminous Body
Duane/DaBen Graduate Light Body Seminar
Friday, Saturday, and Sunday


October 23-25, 2015
Expressing as Your Luminous Body on the Earth Plane
Duane/DaBen Graduate Light Body Seminar
Friday, Saturday, and Sunday