Spiritual Growth Book Excerpt
Chapter 8 Raising Your Vibration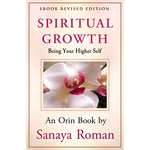 Greetings from Orin!
Raising your vibration comes from opening your heart. When you feel loving, you experience more aliveness, expansion, and renewal. Love is flowing with the universe rather than resisting it. Love is a willingness to be vulnerable; it is accepting yourself and others just as you and they are. Unconditional love dissolves all separateness. As you learn to love yourself and others more, you increase your vibration. Your energy takes on the smoother, finer vibrations of the higher dimensions and you become your Higher Self.
You can open your heart more by loving yourself. Love all the parts of yourself, even those thoughts and feelings you may have labeled as negative. If you feel anger or doubt, love those feelings as much as you love your feelings of joy and peace.
Love your humanity as well as your divinity. Love your insecurities and your negative feelings. If you feel unforgiving or unloving, love those feelings too. Love all of what you call your imperfections. You don't change them by denying or hating them. You change them by loving them. As you love your negative feelings they can evolve into their positive expressions.
As you love and accept yourself, extend the same feelings to others. People are doing the best they know how given their backgrounds, circumstances, and beliefs. Rather than judging or criticizing other people, ask yourself what you can do to make their lives better.
Love is the doorway to enlightenment
When you go to a new level of love and commitment with people, they may start acting in unlovable ways they hadn't expressed before. Love is a powerful energy. The parts of a person that have not felt loved in the past begin to feel safe enough to expose themselves. Your love creates a safe place for healing to take place. If someone has become harder to love after you have become more loving, realize that it is only happening because you have become more loving, not in spite of it.
Many of you are older souls, and you are dealing with souls that are younger than you and aren't yet able to act kind and loving as often as they would like. Learn to stop reacting to other's unkindness, rudeness, or lack of consideration for you. Reacting with hurt or pain simply takes you out of your calm, clear center. Send a thought of forgiveness and be loving and kind to everyone, no matter how they behave.
Love regenerates the cells in your body and lets your rise out of the density of the earth plane. If you see ugliness, love that too. If you see others behaving in mean, unfriendly ways, love them. Rather than criticizing others or focusing on their faults, realize that you have the opportunity to raise your vibration by loving them. As you open to love, you will experience a more beautiful world all around you.
Your Higher Self exists in a state of love. Every time you are loving, kind, forgiving, and compassionate to yourself and others, you are being your Higher Self. Learn to love everything in your life–every feeling, thought, and action you take. Think of yourself as a beautiful, loving person, doing the best you know how to grow and evolve.
Imagine your heart as a star, and let it radiate love and light to every cell in your body. Feel the light from your heart balancing, harmonizing, and regenerating your body, enhancing the flow of life-force energy throughout.
Spend a moment feeling any emotions that are present right now. Send love to each one you can identify. Take a moment to listen to your thoughts as they come into your mind. Send love to each thought as it comes up.
---
Recommended Listening


Spiritual Growth Audio Book (SGE) Unabridged book, read by Sanaya Roman, includes 21 short guided meditations at the end of the each chapter available as a separate track. These are not the same as the meditations in Volume 1 and 2 below, as they are from 4-7 minutes each.

Spiritual Growth Volume 1—Raising Your Vibration (SG101) 8 guided deep-level meditations by Orin to go with the book. Experience many expanded states of consciousness to open your heart, to calm your emotions, to accelerate your spiritual growth, to work in probable realities to choose the reality you want, to expand and contract time, to lift the veils of illusion, to learn right use of will, and to become transparent.


Spiritual Growth Volume 2—Being Your Higher Self (SG102) 8 8 guided deep-level meditations by Orin to go with the book. Become your Higher Self, create miracles with light, send light to others, connect with the Universal Mind, flow with the Higher Will, work with the masters, see the bigger picture, and allow your higher good. Learn to let go of anything that does not serve your higher good and experience more inner peace.

Spiritual Growth Meditation/Affirmations Program 1: Affirmations and Program 2: Journey by Orin to assist you in deepening your experience of, and putting into practice the information you read about in the Spiritual Growth book.
View a list of all Single Meditations
Spiritual Growth, Articles and Products on Our Website

Recommended Reading
Orin's Spiritual Growth - Being Your Higher Self book. Now available in printed and eBook formats!
Be your Higher Self in everyday life and move to a higher state of consciousness. Receive answers and guidance from your Higher Self. Work with light, connect with the Universal Mind and Higher Will. Learn non-attachment; right use of will; travel into probable realities; and experience more joy, harmony, peace, and love.
Note: Revised eBook is updated, however the information is essentially the same as in the printed book.
Note: If you have purchased the revised eBook edition since June, 2011, you have the latest edition.

View all Spiritual Growth products
View all Orin and DaBen books

Book Excerpt for Spiritual Growth
Blending with Your Soul
Receive Soul Guidance/Working with Energies Present
Exercise: Asking for Soul Impressions
Exercise: Recognizing Soul Impressions
Exercise: Receiving Soul Impressions Throughout the Day
Orin's Path of Self-Realization
Information on Teaching Spiritual Growth