About the Orin and DaBen Books
The Orin and DaBen books, channeled through Sanaya Roman and Duane Packer, bring you words of love, wisdom, and encouragement to live a joyful, abundant, and light-filled life. All of the books are inspiring and uplifting. Each contains practical ways to bring more light, love, and abundance into your life, as well as containing many ways to work with energy and light to create a fulfilling life. These books offer you hope, optimism, love, and the realization that you have all they need within you to create the most fulfilling life you can imagine for yourself.
There are over 3,000,000 Orin and DaBen books in print, and these books have been translated into over 26 languages. To view a partial list of our international publishers, follow the link: International Publishers
Our books are available in Kindle and ePub formats.
Order PRINTED books from Amazon or from Barnes and Noble
or through your favorite local or online bookstore.
Click on picture for more information or to order.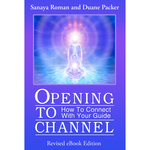 Note: Living with Joy and Creating Money printed and eBooks are the same.
Personal Power Through Awareness printed and eBooks are revised and have a new Section on Clearing Energy.
Spiritual Growth eBooks have been updated, however the processes and information are essentially the same.
Soul Love eBook contains 9 color illustrations and a new introduction, otherwise the revised eBook and the printed book are essentially the same.
Opening to Channel eBook contains 4 color illustrations and a new introduction, otherwise the revised eBook and the printed book are essentially the same.
---
Audiobooks
To listen to a free Audiobook excerpt or to order, click on the cover picture or link below.
Opening to Channel Audiobook, eBook and Opening to Channel Audio Courses
Living with Joy Audiobook, eBook, and Living with Joy Audio Courses
Personal Power Audiobook, eBook and Personal Power Through Awareness Audio Courses
Spiritual Growth Audiobook, eBook and Spiritual Growth Audio Courses
Creating Money Audiobook, eBook and Creating Money Audio Courses
Soul Love Audiobook, eBook and Soul Love Audio Courses.
---
Read about each book, links on these pages to book excerpts:
Orin's Living with Joy Book Excerpt
Orin's Personal Power Through Awareness Book Excerpt
Orin's Spiritual Growth Book Excerpt
Orin's Soul Love Book Excerpt
Orin and DaBen's Creating Money: Attracting Abundance Book Excerpt
Orin and DaBen's Opening to Channel Book Excerpts
Read Random Book Quotes and Receive a Daily Message
You can go to the Creating Your Highest Future Room and receive a daily message from each book.

Weekly Book Excerpts
Each week we feature an excerpt from one of our books. Go to weekly book excerpts for this week's excerpt, and to our weekly meditation based on the book excerpt.
Teaching Classes Based on Books
If you would like to teach classes based on our books, select the book title(s) below for information about giving classes based
on the book(s):
Copyright and Permissions
If you would like information on quoting one of our books, please go to permission to quote book excerpts.
---

Visit Orin's Meditation Room and choose from various meditation topics. Meditations include processes to receive solar light; make soul contact; awaken soul vision; energize your life purpose; take a shower of light; experience joy, a clear creative mind, relaxation, self-love, cellular activation, and loving relationships; feel energetic, clear blockages, open to receive, receive answers from within, request extra energy, and more. Also includes full-length free Orin meditations.
Visit the Creating Your Highest Future Room daily to receive inspirational excerpts from our books.
Receive Daily Affirmations in the Affirmations Room
Read our weekly Book Excerpt
Enjoy our Weekly Meditation
Check out our Free Online Articles by Orin and DaBen
Visit the Thaddeus Music Listening Room
Enjoy Listening to Free full-length Orin Meditations