Spiritual Growth Book Excerpt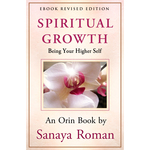 Chapter 1 Being Your Higher Self
Greetings from Orin!
Your Higher Self is a dynamic, growing life-force consciousness. It exists in a realm where all beings are united as one multidimensional consciousness. Your everyday consciousness is an aspect of your Higher Self that lives in your physical reality. Your Higher Self sends you impulses to be loving and united with others. Your Higher Self knows harmony, order, and light; when you add these to your life you are operating as your Higher Self.
Your Higher Self knows why you have the challenges that you have. Your Higher Self is the very essence of who you are and holds the accumulated knowledge from all your lifetimes. It is the wise teacher that exists within you. Your Higher Self knows no limits and is not attached to any role you play. It can heal and evolve you as you bring its high, fine vibration into your body and all your energy systems.
Spiritual Growth is the process
of becoming your Higher Self.
Your Higher Self usually talks to you through your intuition and feelings. It can also communicate by sending you odd coincidences and synchronicity - in the forms of people, newspapers, books, movies, and anything else that will give you the messages you need to hear. As you strengthen your connection to your Higher Self you will experience increasing insights, revelations, and expanded awareness.
You can take an enormous leap forward in your spiritual growth by contacting your Higher Self. Some of you begin contact by imagining yourself talking to a wise teacher or adviser and asking for advice. We will be working with the next step, which is being your Higher Self. You will learn to directly experience the feelings, thoughts, and wisdom of your Higher Self and to be your Higher Self more and more often, until this is who you are all the time.
You can be your Higher Self at every moment. Your Higher Self is your expanded, loving, wise, and compassionate self. You already are your Higher Self at those moments you are focusing on what you are doing, coming from your heart, or receiving creative insights. You are your Higher Self as you work with light, shift consciousness in others, or focus on how you can serve and make a difference in the world. I will assist you in recognizing how it feels to live as your Higher Self and bring its greater light into every area of your life. As you recognize those instances when you are already being your Higher Self, you can bring them into your life more often.
What many of you are looking for in another - compassion, understanding, and love - you will find first in your connection to your Higher Self. This connection will enable you to love and nurture yourself more and to connect with others in higher, more loving ways.
Spiritual growth comes from increasing contact with your Higher Self and allowing It to become the director of every part of your life. Once you begin a path of spiritual growth - seeking, learning, exploring the greater being that you are, and uncovering the mysteries of the universe - you will never be the same. You may stop for a while or decide to slow down, but after you experience the joy of growing you will not want to stand still for long. As many of you are already aware, once you have embarked on this adventure of growth, you may never want to stop!
---

Recommended Listening


Spiritual Growth Audio Book (SGE) Unabridged book, read by Sanaya Roman, includes 21 short guided meditations at the end of the each chapter available as a separate track. These are not the same as the meditations in Volume 1 and 2 below, as they are from 4-7 minutes each.



Spiritual Growth Volume 1—Raising Your Vibration (SG101) 8 guided deep-level meditations by Orin to go with the book. Experience many expanded states of consciousness to open your heart, to calm your emotions, to accelerate your spiritual growth, to work in probable realities to choose the reality you want, to expand and contract time, to lift the veils of illusion, to learn right use of will, and to become transparent.



Spiritual Growth Volume 2—Being Your Higher Self (SG102) 8 8 guided deep-level meditations by Orin to go with the book. Become your Higher Self, create miracles with light, send light to others, connect with the Universal Mind, flow with the Higher Will, work with the masters, see the bigger picture, and allow your higher good. Learn to let go of anything that does not serve your higher good and experience more inner peace.



Spiritual Growth Meditation/Affirmations Program 1: Affirmations and Program 2: Journey by Orin to assist you in deepening your experience of, and putting into practice the information you read about in the Spiritual Growth book.
View a list of all Single Meditations
Spiritual Growth, Articles and Products on Our Website


Recommended Reading
Orin's Spiritual Growth - Being Your Higher Self book. Now available in printed and eBook formats!
Be your Higher Self in everyday life and move to a higher state of consciousness. Receive answers and guidance from your Higher Self. Work with light, connect with the Universal Mind and Higher Will. Learn non-attachment; right use of will; travel into probable realities; and experience more joy, harmony, peace, and love.
Note: Revised eBook is updated, however the information is essentially the same as in the printed book.
Note: If you have purchased the revised eBook edition since June, 2011, you have the latest edition.
View all Spiritual Growth products
View all Orin and DaBen books

Book Excerpt for Spiritual Growth
Blending with Your Soul
Receive Soul Guidance/Working with Energies Present
Exercise: Asking for Soul Impressions
Exercise: Recognizing Soul Impressions
Exercise: Receiving Soul Impressions Throughout the Day
Orin's Path of Self-Realization
Information on Teaching Spiritual Growth