Spiritual Growth Book Excerpt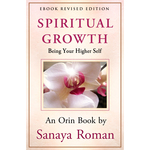 Chapter 1 - Spiritual Growth
Greetings from Orin!
As you grow spiritually, you are on a wonderful journey of self-discovery. You will increasingly understand the mysteries of the universe and learn tools of personal transformation. As you go higher, your life can be effortless. Everything you need will come to you as you need it and your creative endeavors will bring you results beyond anything you can imagine.
Spiritual growth is a journey as vast as consciousness. In this book I will give you some tools, information, and techniques to assist you in growing more easily and joyfully. This knowledge will assist you in getting to the next level, where your growth will come almost entirely from directly experiencing higher energy states and connecting with your Higher Self.
"Spiritual growth," as I will describe it, means growing through connecting with your Higher Self and to a Higher Power - the God/Goddess within and without, Christ, Allah, Buddha, the All-That-Is. This connection will bring you aliveness, a healthy body, loving friends, a supportive environment, and the opportunity to make a difference in the world.
The spiritual path can be
one of immense play
and deep inner joy.
Spiritual growth gives you the tools to make your everyday life work and bring increasingly higher levels of order, harmony, clarity, and love into every area of your life. Spiritual growth is the single most important thing you can focus on if you want a joyful, peaceful, and loving life.
As you grow spiritually you will be able to see the bigger picture of your life. As you link your will with the Higher Will, you will gain more awareness of the path of humanity's evolution and your part in it. You will discover your life's work and gain the tools to carry it out. Your life's work will make a meaningful contribution to people, the plant or animal kingdoms, or the Earth itself. It will be something you love to do. You can do what you love all the time; your work can be your play.
As you open to the higher dimensions of yourself, you will be able to lift the veils of illusion and see the world through the eyes of your Higher Self. You will link your throat with your Higher Self and express truth and love in all you say. Your mind will be illumined and your emotions will be harmonious as they are blended with the light of your Higher Self.
Spiritual growth assists you in creating loving relationships. As you grow spiritually, you will connect with people in higher ways. Your growth will allow you to trust more, keep your heart open, and reach new levels of sharing and intimacy. You will have deeper, more meaningful connections with your loved ones.
As you grow, you will know how to send light to strengthen and empower yourself and your friends. You will trust your ability to sense energy so much you will feel safe wherever you are. You will hear your inner guidance clearly and take action on it. You will easily harmonize with the energies of all kinds of people. You will learn how to become transparent to or even transmute "negative" energy. You will experience friendly smiles, love, and peace wherever you go.
At higher levels of consciousness you will become more aware of subtle energies. You will gain an ability to feel, sense, and even see the subtle vibrations of other dimensions, life-forms, and the auras that surround people's bodies. Your higher powers of clairvoyance, telepathy, and other psychic abilities will become enhanced, although they will be only tools to further your growth and not ends in themselves. You will be able to create rapid, positive changes in your physical body and gain greater skill in healing yourself.
Your fears may not be totally gone, but when a fear comes up you won't react with even more fear. Instead you will talk to the fear, send it love, and ask for any messages it contains. You will notice immediately when you are not in a high state, and you will be able to get rapidly back to a balanced, centered, and calm state.
Spiritual growth is similar to personal growth, with one big difference; when you grow spiritually you are connecting with a higher power and using that connection to empower your growth. This higher power–your Higher Self and God/All-That-Is–works with your personality self, assisting it to develop self-confidence, self-love, clarity, and other important qualities. When you work on your personal growth and add to that your connection to a higher power, your journey is even more joyful, rapid, and transformative.
---

Recommended Listening


Spiritual Growth Audio Book (SGE) Unabridged book, read by Sanaya Roman, includes 21 short guided meditations at the end of the each chapter available as a separate track. These are not the same as the meditations in Volume 1 and 2 below, as they are from 4-7 minutes each.




Spiritual Growth Volume 1—Raising Your Vibration (SG101) 8 guided deep-level meditations by Orin to go with the book. Experience many expanded states of consciousness to open your heart, to calm your emotions, to accelerate your spiritual growth, to work in probable realities to choose the reality you want, to expand and contract time, to lift the veils of illusion, to learn right use of will, and to become transparent.



Spiritual Growth Volume 2—Being Your Higher Self (SG102) 8 8 guided deep-level meditations by Orin to go with the book. Become your Higher Self, create miracles with light, send light to others, connect with the Universal Mind, flow with the Higher Will, work with the masters, see the bigger picture, and allow your higher good. Learn to let go of anything that does not serve your higher good and experience more inner peace.



Spiritual Growth Meditation/Affirmations Program 1: Affirmations and Program 2: Journey by Orin to assist you in deepening your experience of, and putting into practice the information you read about in the Spiritual Growth book.
View a list of all Single Meditations
Spiritual Growth, Articles and Products on Our Website


Recommended Reading
Orin's Spiritual Growth - Being Your Higher Self book. Available in printed and eBook formats!
Be your Higher Self in everyday life and move to a higher state of consciousness. Receive answers and guidance from your Higher Self. Work with light, connect with the Universal Mind and Higher Will. Learn non-attachment; right use of will; travel into probable realities; and experience more joy, harmony, peace, and love.
Note: Revised eBook is updated, however the information is essentially the same as in the printed book.
Note: If you have purchased the revised eBook edition since June, 2011, you have the latest edition.
View all Spiritual Growth products
View all Orin and DaBen books

Book Excerpt for Spiritual Growth
Blending with Your Soul
Receive Soul Guidance/Working with Energies Present
Exercise: Asking for Soul Impressions
Exercise: Recognizing Soul Impressions
Exercise: Receiving Soul Impressions Throughout the Day
Orin's Path of Self-Realization
Information on Teaching Spiritual Growth