Download Cover
[
Click to Print
]
Advanced Channeling Skills
This channeling course will assist you in strengthening your connection to your guide and achieving a deeper trance state. You will be guided to channel on chakras, past lives, and more.
Note: Orin has made a wonderful new channeling course called Connecting with Your Guide: Receiving Clear Guidance, (C201) that is now available!
Orin's new course contains much guidance and many meditations to assist you in having a clearer connection to your guide, and to understand how guidance comes about, and how to trust your connection to your guide and the guidance you receive so that you can take action that brings about the highest and best results.
---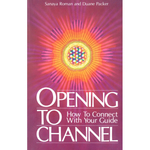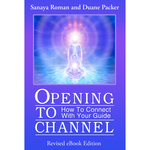 Recommended Reading Now available in printed and eBook formats!
Orin and DaBen's Opening to Channel book contains important information about how to make a connection to your guide. Thousands have learned to channel using the safe, simple, and effective techniques in this book. Learn how to tell if you are ready, what a trance state is, how guides transmit messages, your role as a receiver and translator, who the guides are, how to recognize high-level guides, how to attract a guide, what to expect, and more. Use this book while you are working with the audio courses.
Sections 1, 3, and 4 are also available as the Opening to Channel abridged audiobook (OTCE) Read by Sanaya and Duane, transmitting energy from Orin and DaBen as you listen.
Section 2 of the book on how to Channel is available as the Opening to Channel audiocourse (C101) by Sanaya and Duane, Orin and DaBen.
View all Channeling Products and all Channeling FAQ's
Read Excerpt from Opening to Channel Book
What is Channeling • What is Conscious Channeling
What to Use Your Channeling For • How to Tell if You are Ready
You May Be More Ready Than You Think
Recognizing High-Level Guide
Recognizing Entities Who Are Less Evolved
Receiving Guidance and Answers to Your Questions
Receiving Guidance from the Higher Realms
Orin's Path of Self-Realization

Receive a personal affirmation about your channeling here.