Download Cover
[
Click to Print
]
Living the Light Body Series:
Using Light Body Energy to Live as Your Vast Self
Graduate Light Body Live course
with Duane and DaBen
Part 1: Living as Your Vast Consciousness
-

Receive on-going transmissions of light during each meditation just for you from DaBen and many beings of light
to assist you opening to these spaces. DaBen will sponsor you during the course.
This course is taught back-to-back with a companion course, Being Luminous Light, Being (LB971)
You can enroll in one or both, they are meant to work together.
In the first course of the series,
Living as Your Vast Consciousness
, you will be guided by DaBen to find your beingness at the highest level. Highest level can be thought of as what you can reach being fully engaged, using all of your consciousness, focus, and attention.
When you are in your beingness you are in your power.
In this course, you will explore your life from your highest level of being. You will discover more about using the energy tools you already have and expand upon these to solve the issues in your life from a level beyond the personality. The process of choosing what to do is then subjected to your true beingness and not derived from unexamined thought forms and beliefs. As you expand into the larger you it is like thinking you are living in a 3-room home, and then discovering that you are actually living in a 6-room home. Your choices about what you can do in your home are now different. It is similar to having more consciousness in more areas — you now have a larger field of play with more choices and possibilities. You can then play much bigger with your life because the context you are coming from is much larger.
Prerequisites To understand DaBen's instructions and experience the wonderful expanded states of consciousness he offers, you need to be an Awakening Your Light Body graduate with knowledge of the 7 vibrational energy and 3 light body centers as taught by DaBen through Duane Packer.
We look at this series of courses as play and adventure, with many practical applications as well.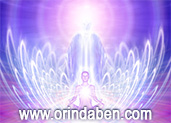 Some journeys will be devoted to far-out destinations, some to teaching you new ways to connect with your guide (you do not need prior experience channeling a guide). In some meditations you will explore Interdimensional Traveling to expand into your larger being. You will have an opportunity to meet and converse with vast consciousnesses to gain new perspectives on your life and who you are. In each course in this series you will have an opportunity to gain new insights about various areas of your life as you look through different filters, from the expanded viewpoints that can come from opening up to the energy that DaBen is holding and teaching. Throughout each DaBen journey you will be discovering more about what your consciousness is capable of perceiving, knowing, and experiencing. DaBen is designing this course just for you who will be participating. DaBen and I look forward to this opportunity to be with you as you shift into a new awareness of who you are. ~ Duane

We invite you to participate in the companion course on Being Luminous Light, Being. This course works together with the Living as Your Vast Consciousness (LB971) course.
---
DaBen's New Graduate Light Body Seminars

Seminars are at the Rogue Regency Inn and Suites in Medford, OR. Join us live or participate online.
Follow the links for more information and to register:

Series: Transforming with Light

Part 1 and 2 are available now, and the feedback we have had from people who took these courses has been very enthusiastic. People have been able to experience light and types of light that are new to them, that opened vast vistas of consciousness for them. They felt very expanded and like new doors had opened into some amazing energies they never knew existed. Come and join us for one or more of the seminars in this series!
This series is composed of a Main seminar with 21 DaBen journeys, and a Light Play course following with 16 additional DaBen journeys. The Light Play seminars build on what you learn in the Main seminar, further enhancing and developing your ability to transform yourself and your life with light.
---
Available now!

Part 1: Playing the Layers of Light: Opening the Portal LB974
Part 1: Light Play Seminar: Your Opening in Light: Finding Your Unique Energy with the Layers of Light LB711 (Prerequisite is the Playing the Layers of Light seminar, LB974)
In Part 1 you will learn how to open the portal to new types of light as you play the layers of light. This new light can transform your consciousness. You will meet some amazing beings who live in the light realms and help you open the portal so that this new light can be consistently available to you to live and play in.


Part 2: Assimilating Light: Your Nature as Light LB975
Part 2: Light Play Seminar: Discovering Your Light Signature: Openings and Dimensions of Light LB712 (Prerequisite is the Assimilating Light Seminar, LB975)
---
2020 Upcoming Seminars Dates
---

2020 April 17-22 Part 3
Main Seminar: Inventing Avenues of Expression for Light: Playing at Creating with and in Light LB976 Friday - Sunday, April 17-19, 2020Light
Light Play Seminar: Creating Your Light Realities: Insights and Actions in Ordinary Reality LB713, 2-day Light Play seminar Tuesday, Wednesday April 21-22, 2020 (Prerequisite is the Main Seminar, LB976)
---

2020 October 23-28 Part 4
Main Seminar: Living as Light: Beyond Earth Life LB977 Friday - Sunday, October 23-25, 2020
Light Play Seminar: Living in the Light of Earth LB714, 2-day Light Play seminar Tuesday, Wednesday October 27-28, 2020 (Prerequisite is the Main Seminar, LB977)

---
Prerequisites You must be an Awakening Your Light Body Graduate to take any of the Transforming with Light courses above. To participate in the two-day Light Play seminars, you will need to have taken the Main Seminar as a prereqisite, as the Light Play seminars build on what was taught in the Main seminars. You can have profound, life-changing experiences throughout DaBen's journeys at any level of light body study.