eNewsletter from www.orindaben.com
Duane Packer and Sanaya Roman
Read a message
from Orin and DaBen about staying in the light.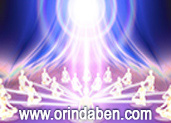 Comment on the World Wide Meditation

April 19th
and What to Do Afterward

Thank you for participating in the Worldwide Meditation. As we came together as a group, our call for light was heard, and the Great Ones released wave after wave of light that went first to each of you individually, as much light as you can handle. With this, our group light, stimulated by the transformative energy of the Great Ones, became increasingly potent and beautiful, filled with love and light. Our group light aided in activating the seeds of potential for new expressions of light for all who joined in, as well as helped to activate and stimulate the seeds of potential for humanity and all life.
You can continue to tune into and receive these "light showers" from the Great Ones and participate in this group call for more light for days to come. As you do you are helping to hold the door open between yourself and the Great Ones, receiving this powerful light, being open to having and expressing this new light in your life. Notice anything new today that may reflect this empowering light, such as new thoughts, peaceful feelings, or a vision of new forms you might create.
Your increasing inner light will automatically radiate out to all life. You become a point of light within a greater light, helping to bring about a planetary shift into more light. ~Sanaya and Duane

Read below for more information and links.
---
Orin and DaBen Message
There is an enormous opportunity right now to bring more spiritual light to the world. The world is on "pause" from outer activity, and is the most silent it has been in years. This silence makes it possible to more easily access the higher dimensions of light, as well as your soul, divine Self, guides, the beings of light and the Great Ones who stand ready to help.
A doorway into higher dimensions is opening wider.
As humanity pauses, in the greater silence a doorway into higher dimensions is opening wider. This offers an opportunity for greater spiritual awareness for everyone. It provides a time to go inward and upward, to deepen your connection to your innermost Self and to hear and follow its guidance.
You may have felt this opening to the higher dimensions of light as a greater appreciation for beauty and nature. You may be exploring activities you used to love but stopped for lack of time. You might be discovering more about who you are and the courage, strength, and light you have within you that you can share with others.
You may be reaching out to family and friends, connecting with them at a deeper level.
You may be feeling gratitude and renewed appreciation for things, activities, and relationships you used to take for granted. You might be reexamining your priorities and taking a new look at what is important to you. Everyone is participating in a planetary shift. The rhythm of people's daily life, their habits and patterns have been changed by the current worldwide crisis.
We can evoke special transmissions from the Great Ones
to help humanity during this current world crisis.
The opportunity to bring more light to the world is so great that a call has gone out from the masters and beings of light to ask everyone who can receive and radiate light to do so.
A powerful way to create more spiritual light for yourself and humanity is to invoke energy from the Great Ones, joining as a group to call upon them to assist humanity during this time of need. When enough people invoke the healing energy of the Great Ones as one voice, the Great Ones respond by releasing potent energy and light that is needed to remedy a world crisis.
We will call upon the Great Ones as a group during the Festival of Love global meditation April 7th and the Orin and DaBen Worldwide meditation April 19th.
You can help bring about a better future as you live in more light and radiate light to others.
Each of you who joins in these worldwide meditations can become a receptor of this powerful energy sent by the Great Ones, using it to transform your own life and radiating this special energy to everyone who is receptive to and can use this light.
Besides calling on the Great Ones, and participating in global meditations, there is much you can do to live in the light yourself and be a source of light to those around you. Read Orin and DaBen's complete message to stay in the light.
Read more.
---
Transmissions from Us, Orin and DaBen

During these worldwide meditations we will transmit light to each of you who joins in to assist you in recognizing and taking your next steps, if you are open to and want to receive our transmissions. You can also call upon us anytime for love and support.
---
Written Meditations
to use during the April 19th meditation: Go here for a
written meditation
to call upon the Great Ones for light, spiritual awakening, and healing, and another written meditation to use to increase your inner light.
Free Audio Meditations
to use during the April 19th meditation
:
During these times you can listen to free Orin meditations in Orin's
Meditation Room
. We have a free full-length meditation on Peace, Receiving and Radiating Divine Love, and on clearing energy with the Sacred Transmuting Flame. You can also meditate in silence, or listen to your favorite Orin and DaBen meditations.
Light Body Students - experience your favorite light body spaces to tune into DaBen's transmissions during this time.
---

Manifesting Abundance: Read articles about manifesting and creating abundance in our latest Orin PDF newsletter. (Click on the picture, requires a free Adobe PDF reader)
---

Read about DaBen and Orin's light body programs and DaBen's seminars in our Awakening Your Light Body PDF newsletter.
Includes information about DaBen's upcoming graduate light body
online
seminar on opening portals to new light and finding new forms to express your increasing light.
Inventing Avenues of Expression for Light: Playing at Creating with and in light (LB976). April 17-22, 2020.
---
Free on our website - we invite you to visit often!
---
This eNewsletter is being sent to you by Sanaya and Duane at LuminEssence because you have sent us your Email address with permission to receive online eNewsletters from us, or because a friend has forwarded it to you.
Receiving this eNewsletter from a friend?
You can
subscribe
to future eNewsletters.
Keep your Email address updated:
If you wish to continue to receive these occasional eNewsletters, please let us know if you change your Email address. You can do this in the
Member's Area
by logging in with your original email, and then using the link "Change Email Address Associated with This Account" to enter your new email address.
Unsubscribe: We will be sending you occasional eNewsletters (these are not the same as our printed newsletter) to let you know about our courses, events, and new free meditations. If you do not wish to receive Orin and DaBen's eNewsletters, simply click the unsubscribe button below and your name will be taken off our email list.
Privacy policy: Your privacy is very important to us. We do not now, nor have we ever, sold or rented your name, email address, address, or any other information about you to anyone.