Download Cover
[
Click to Print
]
Part 7: Frequencies of Transparency by DaBen
Welcome to the Frequencies of Transparency!
DaBen transmits 5 Frequencies of Transparency in this course. The Transparency Frequencies are even more advanced than the Frequencies presented so far. As with the Brilliance Frequencies, they provide an opportunity to develop a skill that will enhance your experience of all Frequencies and states of consciousness that you might explore. You can learn to become transparent to all the energies about you, to "be" your experience, and to experience moment-to-moment awareness as you move beyond thinking and interpreting what is happening.
You can become a part of the entirety of your experience at all levels. These Transparency Frequencies draw you to a sense of flow and a new sense of peace that may be deeper than any peace you have experienced before. By continuing to follow this "new" experience, and the Transparency Frequency as it unfolds and deepens, you have the opportunity to discover more and more about the basic nature of your ability to experience and to just be your experience moment-to-moment without interpretation.
After you experience the peace that is a part of the experience of working with the Transparency Frequencies, you have the opportunity to discover this sense of peace even in ordinary reality, through direct experience and insights. The Transparency Frequencies may assist you in your channeling to be transparent to your own energies so your guide, higher self, soul, and spirit can shine through more clearly, without interference from you trying to "control" the experience.
Prerequisites: Frequencies of Vision LB121, Frequencies of Precision LB122, Frequencies of Intensity LB123, Frequencies of Clarity LB124, Frequencies of Harmony LB125 and Frequencies of Brilliance LB126 To get the most out of these courses, we highly recommend that you study them in sequence, as DaBen's journeys taught in this album combine the new Frequencies with the previously learned Frequencies of Vision, Precision, Intensity, Clarity, Harmony, and Brilliance to enhance your ability to experience various expanded states of consciousness.
Course contains 12 DaBen journeys, no Orin journeys. Course comes with manual with instructions, extensive information, and transcripts of the journeys.
---

Further Study of the Frequencies:
DaBen's Radiance: Filling in the Frequencies Expanded course: In this course, you will work with the Frequencies of Vision, Precision, Intensity, Clarity, Harmony, Brilliance, and Transparency, and learn a fifth Frequency for each set. You will learn states of consciousness by moving into the potential, expanded state for each frequency, as well as from blending them together. You will discover how to use the Frequencies to expand your consciousness in all new ways.
---
DaBen's Radiance: Self-Exciting course: If you have not yet studied this course, the Self-Exciting and Frequencies skills taught in this course will support you in having a better experience of light body energies at all levels of study. This is the recommended next course after graduating from the basic light body level. These skills help you to stay awake, or if you suddenly find yourself in ordinary reality after being in a high space, feel you are not getting anything, have too much mind chatter or want to. You can surrender and open up to whatever experiences are there for you.
---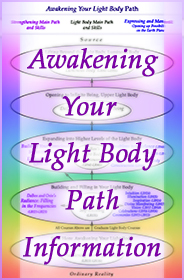 This course is taught at the Self-Exciting/ Frequencies level where you are building and filling in your light body. Click on the small color graph "Awakening Your Light Body Path Information" for a study guide that explains the light body path and how the graduate courses relate to each other. This course teaching some of the beginning stages of light body consciousness.
---

If we have your Email address, you can receive special messages from us just for you, a Light Body graduate, in our Light Body eNewsletter. We send these 2-4 times a year, and they can include links to online audio light body meditations as well as current seminar information and other light body news. If you have not yet given us your email address, need to change your email address, or if we do not know you are a light body graduate, please create a membership, log-in and let us know about you and to receive our free newsletter. You can also sign our Guestbook to let us know about you and to receive our free newsletter. All information you give us is confidential; we never share or sell your contact information.

---
DaBen's Graduate Light Body Seminars

2 Seminars Back-to-Back
You can enroll in one or both.
They work together and complement each other.

Now available: Evolving with Peace
and Evolving with Vast Consciousnesses

Evolving with Vast Consciousnesses
Seminars are at the Rogue Regency Inn and Suites in Medford, OR. Join us live or take online.
---
2019 There will be 2 seminars, back-to-back:

Follow the links for more information and to register:



2018 October Seminars now available

These two seminars work together, however they can be taken together or separately.
October 19-21 (Friday through Sunday) Being Luminous Light Part 3: Evolving with Peace
October 23-24 (Tuesday and Wednesday) Evolving with Vast Consciousnesses
2019 April Seminars Topic to be announced
April 26-28, April 30-May 1
2019 October Seminars
October 18-20, and October 22-23
---
Prerequisites These courses are open to all Awakening Your Light Body Graduates. No graduate light body courses are required to participate. However, any graduate light body courses you have taken will allow you to get more out of the spaces being taught. You can take any course in the series whether or not you have studied the prior courses, as these courses can be taken in any order. With each course you will gain ever-expanding consciousness. You can have profound, life-changing experiences throughout DaBen's journeys at any level of light body study.