Download Cover
[
Click to Print
]
DaBen's Exploring Connections with Light Body Consciousness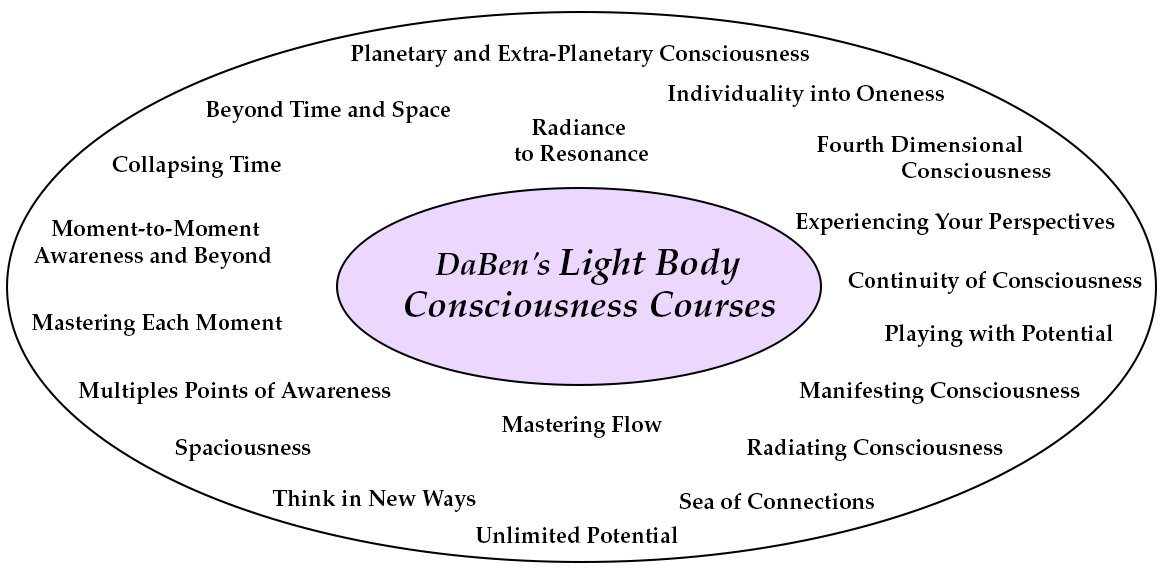 Welcome to DaBen's Light Body Consciousness: Exploring Connections from Light Body Consciousness course
You can read about people's experiences from studying Light Body Consciousness.
Why Explore Connections?
You can tap into the unlimited power that lies within you. Imagine that you are a drop in the ocean. If you think you are separate from the ocean you feel powerless, helpless, and unable to tap into the abundance of the ocean that is all around you. If you know you are a part of the ocean, you have the power of the ocean with you. Through learning to expand all your connections to the ocean–consciousness Itself–you can tap into the unlimited power, abundance, and consciousness that is available to you. You will no longer have the identity of a small, helpless drop in the ocean, but instead your identity will be the ocean itself, omnipotent, omnipresent, and omniscience.
As you expand your awareness of your connections to consciousness Itself, what you manifest will be exactly what you need, make a contribution to others, and allow you to shift the energy around you. With this connection you can experience having all you need when you need it, such as opportunities, circumstances, ideas, new perspectives and ways of thinking, energy, enthusiasm, inspiration, funds, contacts, business, clients, a job, and resources to carry out a project. Things will appear as you need them and leave when they have fulfilled their purpose. What you manifest will come about automatically as you follow the flow and will be a reflection of the connections you have become aware of and the new potential you activate from this higher level.
Things will appear as you need them
and leave when they have fulfilled their purpose.
What you manifest will come about automatically as you follow the flow and will be a reflection of the connections you have become aware of and the new potential you activate from this higher level. That is what manifesting from the light body is about – moving into a higher consciousness that allows you to change things experientially from light body spaces, playing with the energies, making them more beautiful, opening to a higher consciousness, becoming radiant, and finding a higher flow, and in all the other ways you have learned to be in these spaces. Manifesting comes about automatically as what you need in each moment, appears in your life, comes in the perfect form to fulfill your needs, and leaves when it is time to make way for the next need you have.
Expanding your consciousness allows you to manifest everything in your life in harmony with your deepest being. The shifts you precipitate at a higher level will express or manifest in many ways, some materially, and others as changes in your consciousness such as more love, an inner knowingness of actions to take, feelings of greater peace and harmony, new ideas, and a wider understanding of whatever you focus on.
What you manifest will come about automatically
and will be a reflection of the connections you have
become aware of and the new potential
you activated from this higher level.
We have a wonderful article you can read about Light Body Manifesting that you can use to understand and start now to manifest in this new way.
Other expressions of this higher consciousness come as new, expanded ideas, the ability to recognize potential in some area and then to manifest it, and an ability to be around discordant energies and stay in the flow. You gain a greater ability to recognize and shift thought forms and beliefs, to see through obstacles, and to realize more of what is possible for you to create, accomplish, and have in your life.
In this course you will explore, strengthen, and deepen your connections to source energy and to higher realms, energies, and dimensions. You can tap into a vast universe of light, consciousness, and love that can change how you live and think, and how you relate to your life and to others. As you focus on the connections you already have to Source, you expand these connections, making it easier to be guided by a higher wisdom, love, and understanding in each moment. You are connecting to a meaning larger than yourself, which can give your life greater meaning, inspiration, vision, and purpose.
You will learn how to enter into an "Immense Space" where you can view your life from greatly expanded perspectives. From these new perspectives you will be able to sense the connections you can expand upon to create new flows and opportunities, or to best use those that are there for you. You can connect with the energies that are in resonance with you and that offer you the most opportunity. You are manifesting your life from the fourth dimension, realizing that obstacles that you thought were real are not real, and you can move beyond what you experience as current limitations.
You can transform your life
simply by playing in these higher spaces
DaBen will assist you in translating these experiences into insights and understanding, so you can receive clear guidance about what to do and say to capture the higher flows and possibilities that exist all around you. You can use this understanding and connection to Source energy to draw to you every opportunity you need to fulfill your purpose, become a light for others, say the right thing at the right time to create a shift for people, and become aware of the higher choices that exist for you.
Exploring and developing connections offers you a rapid way to build consciousness, and to use that consciousness to transform your life and life expression in truly awesome ways.
This is the first of a two-part light body consciousness manifesting course. These two courses can assist you in refining your manifesting abilities so you can experience more abundance. While you will learn light body consciousness in these two courses, for a much more in-depth study of Light Body Consciousness, we recommend taking Light Body Consciousness Levels 1-5 before or after these courses.
---
In Part 1 DaBen will:
• Guide you to start changing your life immediately, opening up new potential in every area of your life.
• Teach you ways to increase your ability and skill of manifesting.
• Provide you with ongoing abundance transmissions from DaBen the moment you decide to enroll.
• Aid you in realizing that what seems like obstacles and limitations from a lower level do not really exist when viewed from a higher level.
• Help you precipitate shifts at a higher level which will appear in ordinary reality as increased inner knowingness, peace, new ideas, and new circumstances and forms. What you manifest will come about automatically and will be a reflection of the connections you have become aware of and the new potential you activate from this higher level.
This course was originally taught as a live seminar. The audio has been professionally edited and produced to studio quality. Includes 20 DaBen journeys, numerous Duane talks and exercises. Also includes PDF booklet with transcripts of all talks and journeys.
---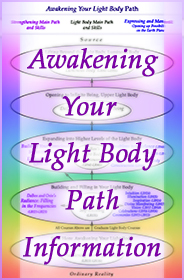 This course is taught at the light body consciousness level where you are expanding into higher levels of your light body. The chart above indicates key states of consciousness, skills, qualities and experiences for courses taught at the light body consciousness level (not all states are taught in each course). Click on the small color graph "Awakening Your Light Body Path Information" for a study guide that explains the light body path and how the graduate courses relate to each other.
As a graduate of DaBen and Orin's Awakening Your Light Body Course, you are eligible to take Parts 1 and 2, Exploring Connections and Manifesting from Light Body Consciousness. In these courses you will learn aspects of Light Body Consciousness and how to apply it to the topics being taught.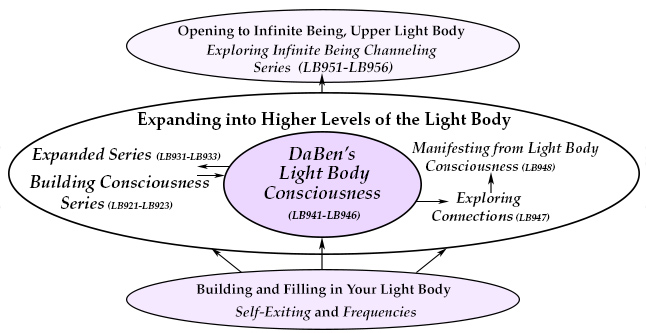 ---
Light Body Consciousness Courses
DaBen's goal with these five courses is to create a shift for each of you and for humanity that in a significant, lasting, and new way, expands how individuality (the you that you know) can express itself. You can then live in cooperation with all the energies about you, and those in higher realms and dimensions as well.
DaBen has been putting out a call to those of you who are ready for this work. He feels that this course can be as big a step in expanding your consciousness as your experiences of awakening your light body. As a participant in the Light Body Consciousness courses, DaBen will include you in ongoing transmissions to support you in learning light body consciousness. You will receive transmissions from many beings of light throughout the course to support you in making this shift of consciousness. This series is much more than just a series of courses, for it offers you a new way of living, experiencing, and being in the world.
This series consists of five (5) DaBen Light Body Consciousness courses, with DaBen journeys and talks by Duane. These are progressive, sequenced courses, and you will need to complete each level before moving onto the next level, as each level builds on the previous level. You can study at any pace that is comfortable for you.

Orin journeys are included with Levels 2, 3, 4, and 5 to further assist you in making the transition to a new consciousness.
If you would like to meet others on a similar path, we recommend attending a live light body seminar, a wonderful way to meet other light body graduates.
Information about Each Level
All courses below include a PDF manual including transcripts of the journeys, and color artwork for your MP3 player that you can also print if you are burning CDs.


Level 1: Light Body Consciousness—Perceiving Energy, Developing Dimensions. Contains 19 DaBen journeys and talks by Duane. LB941

Level 2: Light Body Consciousness—Discovering Equilibrium, Becoming Discernment. Contains 20 DaBen journeys and talks by Duane and 2 Orin Meditations. LB942



Level 3: Light Body Consciousness—Creating Focus, Mastering Flows. Contains 21 DaBen journeys and talks by Duane, and 3 Orin meditations called Expansions of Self. LB943



Level 4: Light Body Consciousness—Precipitating Shift, Manifesting Consciousness. Contains 22 DaBen journeys and talks by Duane, and 10 Orin meditations called Birthing New Consciousness. LB944



Level 5: Light Body Consciousness—Being, Beyond Experience and Choosing to Express. Contains 23 DaBen journeys and talks by Duane, and 4 Orin meditations called Transitions to a New Consciousness. LB945
---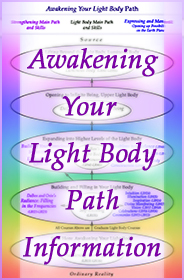 For information on graduate light body courses and how they relate to each other, read the Awakening Your Light Body Path Information, click on the picture.



---

If we have your Email address, you can receive special messages from us just for you, a Light Body graduate, in our Light Body eNewsletter. We send these 2-4 times a year, and they can include links to online audio light body meditations as well as current seminar information and other light body news. If you have not yet given us your email address, need to change your email address, or if we do not know you are a light body graduate, please create a membership, log-in and let us know about you and to receive our free newsletter. You can also sign our Guestbook to let us know about you and to receive our free newsletter. All information you give us is confidential; we never share or sell your contact information.

---
Seminars will be available as live broadcast, download, and streaming
---

Next seminar in this series starts October
October 21-23, 2022
Being, The Ultimate Reality

Register or read more about upcoming October Seminar here


More information about each seminar will be provided closer to the seminar times.
DaBen's goal for every seminar is to offer you a significant shift in consciousness that is part of a larger path of reaching new and higher states of consciousness with each course. DaBen's goal for every journey is to offer you an opportunity to have a memorable experience. You can listen again and again, continuing to have peak experiences as you do.
In the upcoming seminars, DaBen will offer you yet another immense shift in consciousness.
Each seminar is designed to be experienced and enjoyed without needing to complete the previous seminars in the series. However, every light body course you take will enhance your ability to experience what is being taught in the seminars.
As you open to the energies being offered you can shift into as high a space as you are able to experience. DaBen's transmissions will assist you in opening to a vastly expanded perspective of your life from a higher level, often from beyond the earth plane. In this seminar series, you will reach these higher planes by going through portals, getting to meet and work with some amazing, highly evolved beings as you do.
As a metaphor, you might think of living in one room, where your perspective comes from just that room. Then one day you walk outside, and see that room is part of a house, with a whole environment around it. It completely changes your perspective of your room and your life in it. DaBen equates the room to living from an earth plane consciousness.

As you go through these portals to realms beyond the earth plane, it allows you to explore the nature of reality and discover more about what it is. You will be able to view your life from beyond the earth plane, giving you some interesting and unique perspectives of who you are and what your life is about.
Each seminar is on the leading edge of what DaBen is teaching.
Duane and DaBen have connected with these beings, and they are prepared for and welcoming us to join them so we can experience reality in many new ways.
---
Discover new inner ways to connect with others.

You can enjoy these seminars in many ways, such as through a live feed, with streaming/ download also available. It is wonderful to come together to support each other in rising to a higher level of consciousness, and opening to a greater light. As you do this you can change your life with light.
DaBen is showing us new ways to connect with each other on the inner planes. People have loved connecting with the group energy in these new, inner ways, and have found it to provide a great boost in their ability to experience the higher energies DaBen is transmitting. We also have student-sponsored Facebook groups you can join, as well as Zoom meetings to share your experiences with others.
---
DaBen offers this opportunity for a major shift in consciousness in a concentrated period of time, twice a year, in October and April. There are additional mini-seminars in between to assist you to continue to expand.

To create this shift, DaBen says he needs to bring through a substantial "packet" of energy all at once, in a short time-frame, (such as the longer April and October seminars) so that the energy is complete and extensive enough for it to be established on the earth plane. This allows you to better experience the spectacular shift into higher consciousness that is being offered.
The seminars are offered as a live stream, and the journeys and talks will be available as streaming/download options so you can listen at your convenience. You can "unpack" DaBen's transmissions over whatever time frame works for you.
Some suggested ways to listen to the seminar journeys
DaBen will transmit to you the energies that will assist you in opening to these spaces whenever you listen. Some people participate in the live stream, listening to as many journeys as they can. Others combine listening to the live stream with listening to the streaming/downloads that are available a few hours after the journeys. Some listen to the full set of seminar journeys over a period of days, weeks, or months. DaBen transmits to you whenever you work with the journeys, from his space of no-time.
Each seminar's full complement of energy and journeys are there for you to play with, enjoy, experience, and expand upon whenever you want to do so during and after the seminar times. The feedback we have from people who took these courses has been very enthusiastic.
---
2022 Duane and DaBen's Seminar Information
Seminar Series: Expanding and Creating Light Realities

DaBen will transmit to you individually whatever spaces are next for you during each journey.
There will be 25 or more DaBen meditations and numerous talks in each Main Seminar Friday through Sunday.

There will be 20 or more guided journeys in each 2-day Companion Seminar Tuesday through Wednesday.

For graduates of the Main seminar, there will be four mini-seminars (Fridays, 9AM - 12PM PST) with 6 journeys you can register for to continue to explore these energies inbetween seminar times.

A PDF manual with transcripts of the Main and Light Play seminars will be available several weeks after the seminar.

A zip file will be provided with the talks and journeys of the Main and Light Play seminars, which will include a PDF file with transcripts, several weeks after the seminar.
Ways to Listen:
You can listen to the seminar audio journeys by logging in to the Member's Area, and then clicking on "My Downloads and Seminars." When you
Log In
you will have access to any seminars you have enrolled in.
Live Audio Feed: You can listen to Duane and DaBen's talks and meditations as they are given in real time by clicking on the LIVE AUDIO FEED.

Streaming and Download: Duane's talks and DaBen's meditations will also be posted for streaming and download usually about 2 hours after they are given, as our audio engineer does some preliminary processing and clean up of the audio.

Final Edited Audio: Our studio engineer does post-production audio clean up, so that you can usually pick up the final edited audio about 12-14 weeks after the seminar ends.
---
2022 Graduate Light Body Seminar Dates and Topics

Main Seminar, New Series:

Expanding and Creating Light Realities
Two-Day Light Play Seminar series following the Main Seminar:
Mastering Light Realities

Main Seminar
Each seminar series is composed of a Main Seminar with over 25 DaBen journeys and is complete within itself. $575
Light Play Seminars
The Main Seminar is followed by a Light Play Seminar with 18+ additional DaBen journeys that build on what you experienced in the Main Seminar. $375
For people who have completed the Main Seminar and want more frequent contact, you may enjoy the four Mini-Seminars that are given in-between each Main Seminar. $375

---
---
Part 3:
Solidity in Flow
(LB983) Main Seminar.
Part 3:
Luminous Creativity
(LB717) Two-day
Light Play
seminar to expand upon what you learned in the Main seminar.
---

Part 4:
October 21-23, 2022
Being, The Ultimate Reality
(LB984)
Main Seminar
.
Part 4:
October 25-26, 2022
Evolving and Precipitating in Sequence
(LB718)
Two-day
Light Play
seminar to expand upon what you learned in the Main seminar.
---
To participate in the two-day Light Play seminars, you will need to have taken the Main Seminar as a prerequisite, as the Light Play seminars build on what was taught in the three-day (Friday through Sunday) Main seminars.
There will be four mini-seminars (Fridays, 9AM-12PM PST) offered in-between the April and October seminars for graduates of the Main seminars.
How the Main Seminar and the Light Play Seminar work together
The Light Play seminar will build on what you learned in the Main seminar. The Main seminars taught Friday - Sunday will have a larger focus on the bigger picture, while the Light Play seminars taught the following Tuesday and Wednesday will help you bring what you have learned in the Main seminar into you and your life at a more concentrated, focused level. Once you have taken the main seminar and have some of the bigger general picture and principles, in the Light Play seminars you will discover more about how to integrate this energy and work with it.
What preparation do you need to get the most out of DaBen's seminars?
You can have wonderful, expansive, and breakthrough experiences at all levels of study as you get into the energy spaces DaBen is transmitting. Success with DaBen's meditations is not about keeping up with the group or getting the same thing as everybody else is getting, (because everyone will have a completely unique experience as well). It is about opening to the individual opportunities that are the right ones for you.
During each journey DaBen transmits to you
whatever energies are next for you.
Each light body meditation can bring you incredible experiences and life-changing realizations. You will experience exactly what you need to shift into higher consciousness in whatever way is perfect for you. You can experience states of consciousness that are peaceful, flowing, expansive, mystical, and deeply transformative as you participate in DaBen's seminar journeys. Each DaBen meditation offers you an opportunity to experience unique, memorable, and insightful experiences that will expand your consciousness.