Download Cover
[
Click to Print
]
Opening to Channel: How to Connect With Your Guide Abridged Audio Book
Read by Sanaya Roman and Duane Packer
Contains all of the Information in Sections 1, 3, and 4 of the Opening to Channel book.
This audio book does not contain the processes to learn to channel in Section 2.
Processes to learn how to channel in Section 2 are available as a separate album, C101.
Read an Excerpt from the book.

Listen to the Preface read by Sanaya
You can listen online using the first button.
You can download the audio using the green down arrow.
---
Channeling is a skill that can be learned. You do not need to have special psychic abilities, or have years of training to channel. If you are feeling drawn to channel, this audiobook will assist you in preparing through learning more about what channeling is, determining if you are ready, and much more.
Preparation for Channeling
This audiobook contains information about what channeling will and will not do for you and how to tell if you are ready. You will learn more about what a channeling state is, where you go when your guide comes in, the importance of choosing to remain consciousness and how Sanaya and Duane experience Orin and DaBen.
Who Are the Guides
Listen and learn how to recognize and attract a high-level guide, as well as how to recognize entities that are less evolved. You will explore how guides transmit messages, how they communicate with you, and about your role as a receiver and translator. Orin and DaBen prepare you for channeling and share with you what to expect. You will decide if you want to channel your soul or a guide.
Listen to Other People's Experiences
Listen to stories of how other people experienced their opening to channel to assist you if similar situations occur as you start channeling. People share experiences of when they first met their guide and reactions after opening. Information is included on developing and strengthening your channeling. Guidance is provided on how often to channel, how to receive more specific information, and other ways you can work with your guide without verbally channeling. Various questions people frequently ask are addressed, such as; can you channel the same guide as others, can you lose your channeling ability, and how to deal with doubts that your channeling is real.
This Audiobook contains all the information from the following chapters of the Opening to Channel book:

Preface
Introduction
Chapter 1 Welcome to Channeling, What is Channeling, How to Tell if You are Ready
Chapter 2 Channeling States and What They Feel Like
Chapter 3 Who are the Guides, Recognizing High-Level Guides
Chapter 4 How Guides Communicate with You
Chapter 5 Getting Ready to Channel, Attracting Your High-Level Guide, What to Expect Your First Time
Chapter 10-13 People's Stories of Opening to Channel, Common Problems and Challenges People Experienced, and more.
Chapter 14-17 Developing Your Channeling, Handling Doubts, Strengthening the Connection, Going Out to the World as a Channel, and Finding Your Time to Begin.
This Audiobook also contains some of the information from Chapter 8: Reading for Others and Chapter 9: Predictions and Probably Futures.
Not included in audiobook: Section 2, which contains the processes to learn how to channel in Chapters 6 through 9. Guided meditations to assist you in connecting with your guide, based on the processes in Section 2 of the Opening to Channel printed and eBook (OTC) are available separately. If you are ready to start channeling a guide, the processes, talks, and guided meditations in Orin and DaBen's Opening to Channel Audio course (C101) will assist you in doing so in addition to this audiobook.
Note: The Opening to Channel printed and eBook formats contain Section 2 with written processes you can use to connect with your guide. Go here to read about or purchase the printed or eBook version of the Opening to Channel book. (OTC)

The focus of the Opening to Channel book is on how to channel a guide. All of the processes can be used to connect with and channel your higher self as well. If you desire to channel your higher self rather than a guide, ask for this connection as you begin the processes. You may also want to read Orin's book: Spiritual Growth: Being Your Higher Self (SG) which specifically assists you in connecting with and being your higher self.
---
Recommended Audio Courses for Your Success with Channeling

Opening to Channel (C101) In the C101 audio course you will guided by Orin and DaBen, with talks from Sanaya and Duane, to build your skill at getting into channeling states and to experience the relaxation, focus, concentration, and channeling postures that support your connection to your guide. You will make contact with a guide, discover how to verbally channel your guide or receive inner messages, bring through messages for yourself and others, tune into another person, channel about the future, and more. Orin and DaBen join their energy with yours to assist you in meeting and channeling your guide. This contains the processes taught in Orin and DaBen's Opening to Channel book, and is a companion to the book.


Orin's Connecting with Your Guide: Receiving Clear Guidance (C201) This course works well with the C101 course to assist you in connecting with a guide and/or strengthening your connection to your existing guide to receive clear guidance. You will receive energy from your guide to remove obstacles to a clear connection, to believe that you do have a guide, and to trust the guidance you receive. You will learn how guidance is received; how to receive clearer insights and understanding; and expand your ability to view the larger picture, get more details, look into time, and much more.

---
Read the Free Channeling Articles below on our website. As you do, notice the information that stands out to you or seems to have a special message. Let these be the first messages from your guide or higher self to help you begin making your channeling connection.
---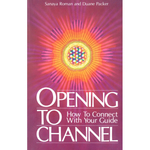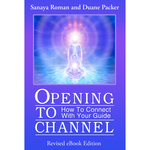 Recommended Reading Now available in printed and eBook formats!
Orin and DaBen's Opening to Channel book contains important information about how to make a connection to your guide. Thousands have learned to channel using the safe, simple, and effective techniques in this book. Learn how to tell if you are ready, what a trance state is, how guides transmit messages, your role as a receiver and translator, who the guides are, how to recognize high-level guides, how to attract a guide, what to expect, and more. Use this book while you are working with the audio courses.
Sections 1, 3, and 4 are also available as the Opening to Channel abridged audiobook (OTCE) Read by Sanaya and Duane, transmitting energy from Orin and DaBen as you listen.
Section 2 of the book on how to Channel is available as the Opening to Channel audiocourse (C101) by Sanaya and Duane, Orin and DaBen.
View all Channeling Products and all Channeling FAQ's
Read Excerpt from Opening to Channel Book
What is Channeling • What is Conscious Channeling
What to Use Your Channeling For • How to Tell if You are Ready
You May Be More Ready Than You Think
Recognizing High-Level Guide
Recognizing Entities Who Are Less Evolved
Receiving Guidance and Answers to Your Questions
Receiving Guidance from the Higher Realms
Orin's Path of Self-Realization

Receive a personal affirmation about your channeling here.