www.orindaben.com
Sanaya Roman and Duane Packer
And Orin and DaBen Offer You Free New Year's Meditations to

Let Us Encircle the World with Peace and Love


Join us to call upon the Spirit of Peace and
Transform your life with peace.
Radiate peace to friends and loved ones, and to all humanity as you join millions around the world on New Year's Eve to hold a vision of World Peace.
Listen to Free audio peace and love meditations by Orin, links below.
Listen to Orin's free Guided Meditation

Listen and Feel More Inner Peace, and Link with the Spirit of Peace
As you experience peace, you can offer peace to everyone you know and contribute to World Peace. Click on link for free audio and written transcript.
---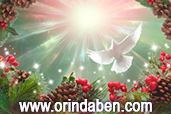 New Years: Meditate for World Peace whenever you can from December 31 through January 1st.

We invite you to join with us and millions from around the world meditating during this time for World Peace. You can participate by feeling peace yourself, then radiating love and peace to everyone you know, to humanity and to all life, whenever you can. You can also focus on World Peace for 5 minutes before or 5 minutes after midnight your time.
We thank you for your support of Orin and DaBen's work. You are the reason for their presence here on earth; all that they do and offer is for you, to assist you in realizing your true, innermost Self as who you are, and in claiming the love, abundance, joy, and peace that lies within you, just waiting for you to realize it.
We send you many blessings for a light-filled, peaceful, and loving New Year. ~ Sanaya Roman and Duane Packer
Let us encircle the world with love and peace!
Feel free to share this information with others and let them know about this opportunity.

---
---
Other Ways to Enjoy the Holidays

Become radiant with love as you listen to


Orin's Receiving and Radiating Love
(Link is to free audio and transcript)
Increase love in your life by aligning with your soul, divine Self, divine Will and Star energy. (Links are to free audio and transcripts, each meditation is 6-9 minutes)
---
This eNewsletter is being sent to you by Sanaya and Duane at LuminEssence because you have sent us your Email address with permission to receive online eNewsletters from us, or because a friend has forwarded it to you.
Keep your Email address updated: If you wish to continue to receive these occasional eNewsletters, please let us know if you change your Email address. You can do this in the Member's Area by logging in with your original email, and then using the link "Change Email Address Associated with This Account" to enter your new email address. Or, you can email us.
Privacy policy: Your privacy is very important to us. We do not now, nor have we ever sold or rented your name, email address, or any other information about you to anyone.