Excerpt from Book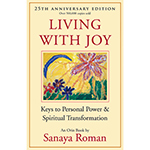 Chapter 4 The Art of Self-Love
Greetings from Orin!
There are many ways you can love yourself, and everything that happens to you is an opportunity to have a loving experience. Seen in the right perspective, anything can provide you with an occasion to love yourself. When things seem to be going against you, they are only happening to show you blocks to your usable power.
I am sure if I asked you to make a list of loving things to do for yourself, you would be able to think of many. Yet many times you focus on all the ways you are not carrying out those things, and a battle begins. This inner war can be draining, and making yourself wrong is not a right use of energy.

Loving yourself means accepting yourself as you are right now.
There are no exceptions to the contract, which is an agreement with yourself to appreciate, validate, accept, and support who you are at this moment. It means living in present time. Many of you look back to the past with regret, thinking of how you could have handled a situation in a higher way, imagining if only you had done this or that, things would have worked out better. Some of you look into the future to make who you are right now inadequate.
The past can assist you if you remember the times in which you succeeded, creating positive memories. The future can be your friend if you see that in picturing it you are creating a vision of the next step. Do not make yourself wrong because you have not yet achieved your vision. It is important to love who you are now without reservation.
Everything you have experienced up until now is what you were born to learn. Whether you label it good or bad, it is what comprises your being, your uniqueness and purpose. If you could see yourself from my perspective, you would view yourself as a crystal with many facets. Each of you is completely different, a unique combination of energy. Each of you is beautiful, special, and one of a kind, as is each crystal. You reflect light in a unique way, thus your aura varies from those around you. If you could appreciate your uniqueness, see that the path you have chosen is different from anyone else's, it would be easier to detach from the views of others and follow your own guidance.
One of the ways to love yourself more
is to stop comparing yourself to others.
Although you are part of a whole, you are also an individual self, with your own path. The group and family belief systems you have taken on as your own can be obstacles to your self-love. "Everybody says it is good to meditate," you may hear some people say, and so you feel bad if you do not do so. The challenge of loving yourself is to step aside from everything people tell you and ask, "Does this fit me? Does this bring me joy? Do I feel good when I do it?" Ultimately your own experience is what counts.
---

Additional Resources
View all Living With Joy Products

Living with Joy 25th Anniversary Edition Audio Book read by Sanaya Roman
Unabridged MP3 Download version of the book.


Audio Courses to Go with book
Volume 1 Living With Joy 8 guided meditations by Orin to go with book.



Volume 2 Taking a Quantum Leap 8 guided meditations by Orin to go with book.
Audio Short Course


Living With Joy teaches the principles in the Living With Joy book and contains one program of affirmations and a guided meditation by Orin.

Single audio meditations to Live with Joy by Orin: Feeling Inner Peace; Self-Love; Being Happy; I am Loved, I am Lovable; Getting In Touch With Your Power, and Staying in Your Center.
View a list of all Single Meditations
Visit Orin's Meditation room for a free meditation on joy.

Living With Joy book: Learn how to love and nurture yourself, set boundaries, radiate love, feel inner peace, open to receive, take a quantum leap, and live in higher purpose. Sound a note of joy as you move through the day. Go here to read an Introduction and Excerpt from the anniversary edition of Orin's Living With Joy book.
View all Living With Joy Products including Orin's audio albums to live with joy.
Enjoy our weekly book excerpt, and our weekly written guided meditations.
Receive a message from the Living With Joy book by going to the "Creating Your Highest Future" room. Click on the Living With Joy book picture, and read the message that comes up.
Receive your personal daily joy affirmation in the Daily Affirmation Room.
Grow with joy rather than struggle article
Light Play: Knowing Joy: Recognizing the Good in Every Situation
Light Play: Creating Joy: Focusing on the Positive