Excerpt from Book Creating Money
Chapter 1 Your Thoughts Create Your Reality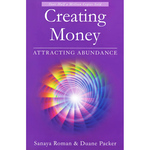 Greetings from Orin and DaBen!
Your thoughts have real substance, although your scientific instruments can't yet measure them. You might imagine your thoughts as "magnets." These "magnets" go out into the world and attract the substances that match them; they duplicate themselves in form. Everything around you was a thought in someone's mind before it existed in your reality. Cars, roads, homes, buildings, and cities all existed as thoughts before they became realities.
Your thoughts set up the model of what is to be created, and your emotions energize your thoughts and propel them from your inner world to your outer world. The stronger your emotions are, the more rapidly you create what you are thinking about. Your intent acts to direct your thoughts and emotions, maintaining a steady focus on what you want until you get it.
I focus on what I love
and thus draw it to me.
Because your thoughts set up the model of what you draw to you, it is important to think about what you want rather than what you don't want. You will not get what you want by fearing or hating its opposite. For instance, having money does not come from disliking living in poverty. Whatever you focus on is what you get, for energy follows thought. The more you love having money and abundance, the more you picture it and thus draw it to you.
It is also important to think in positive ways. Positive emotions and thoughts draw what you want to you. Negative emotions do not bring what you want; they bring only what you don't want. Spend quiet, reflective time thinking positively about what you want. When you do not think in higher ways, dwelling on things such as problems, you repel abundance.
Don't feel bad about negative thoughts you have, for fearing or disliking your negative thoughts gives them more power. Respond to negative thoughts as you would to small children who don't know any better; simply smile and show them a better way to be. If you recognize a negative thought, simply place a positive thought alongside it. If, for instance, you catch yourself saying, "I don't have enough money," simply say "I have an abundance of money."
My thoughts are
loving and positive.
Positive thoughts are far more powerful than negative thoughts. One positive thought can cancel out hundreds of negative ones. Your soul stops your lower and negative thoughts from becoming realities unless having them manifest will teach you something that will help you grow. You are loved and protected by your soul and the universe. As your thoughts become higher and more positive, your soul allows more and more of them to manifest. The more you evolve, the more power your thoughts have to create your reality, and the more responsibility you have to think in higher ways.
There are many wonderful tools you can use to learn to think more positively. For instance, you can put light - an image of physical light - into the pictures in your mind. You can practice making negative thoughts fade out or dissolve, and enlarging positive thoughts. Take a moment right now to think of something you want. Select one thought you have had about why you CAN'T have it. Now, imagine that thought fading out, or imagine that thought written on a blackboard that you are erasing, or imagine putting that thought in a balloon and letting it float away. Do whatever occurs to you to remove that thought from your reality.
Now, create a thought about why you CAN have it. See that thought written out; put white light around it. Imagine someone reading the thought to you in a beautiful voice. Create a mental image of receiving or having what you want. Make the image so real you can almost touch, smell, see, and feel it. Make the image bigger, so that you are standing in the image rather than just observing it. By making your negative thoughts fade out, you take away their power to create your reality. By making your positive thoughts more vivid and real, you increase their ability to create what you want.
There is great power in repeating the thought of something you want over and over. When you got something you wanted in the past you probably thought about it frequently. Repetition firmly implants the idea of what you want to create in your subconscious, and it goes about bringing you what you think about. You want the thought to be definite and unwavering. Affirmations are positive thoughts that are repeated over and over. As you repeat them, they go directly to your subconscious where they begin to manifest as your reality. Affirm what you want in present terms, such as, "I have unlimited abundance," and repeat your positive statements frequently.
---

View all Orin and DaBen Creating Money Audio and Book Products here.
View links to our many Orin and DaBen Creating Money and Abundance articles and exercises to help you create more abundance.
---
Recommended Audio Courses to Help Create Abundance


Guided Meditations: Creating Money guided journeys to reprogram your subconscious for abundance. The audio course contains 8 meditations to reprogram your subconscious for abundance, using the principles taught in the Creating Money book. Audio titles include: Magnetizing Yourself; Clearing Beliefs and Old Programs; Success!!; Creating Abundance; Awakening Your Prosperity Self; Aura Clearing, Energy and Lightwork; Releasing Doubts and Fears; and Linking with Your Soul and the Guides. These audio programs are also available as singles you can download.
---

Audiobook: Orin and DaBen's Creating Money Audiobook, read by Sanaya Roman. More than just an audio book, it contains over 11 hours of audio. There are 23 chapters and 24 exercises, and the affirmations from the book. Expand your abundance potential as you listen, either in meditation, or while driving or doing other activities. You can also listen to a free 8 minute excerpt from the book.

---

Orin's Divine Manifesting Course
Manifesting With the 7 Divine Wills and Divine Self
Part 1: Manifesting as Your Divine Self
Part 2: Becoming a Master of Manifesting These are Orin's newest and most powerful courses in Manifesting.These processes will expand your consciousness and assist you in realizing more of the consciousness of your Divine Self, the source of all Divine Manifesting.
---

Creating Money Audio Short Course: Creating Money Affirmations Program 1 contains affirmations from the Creating Money book; Program 2 contains a magnetizing journey by Orin. These audio journeys will help reprogram your subconscious for abundance and help you put into motion the principles and spiritual laws of abundance you will learn in the Creating Money: Attracting Abundance book.
Recommended Orin Single Audio Journeys
Unlimited Thinking and for Self-Employed People: Attracting business, clients, sales, and money, Discovering Your Life Purpose, and Manifesting Your Destiny.
View a list of all Creating Money products

View all Orin and DaBen Creating Money Audio and Book Products here.
View links to our many Orin and DaBen free Creating Money and Abundance articles and exercises to help you create more abundance.
---

Recommended Reading
Orin and DaBen's Creating Money: Attracting Abundance Book Now available in printed and eBook formats!
This is a step-by-step guide to the art of manifesting using advanced energy techniques, magnetism, and the spiritual laws of abundance. Discover and create your life's work, transform limiting beliefs, create miracles, and draw to you what you want.
Creating Money AUDIO BOOK Creating Money: Attracting Abundance book, read by Sanaya Roman. You can also listen to a free 8 minute excerpt from the book.
Creating Money Articles and Exercises
Manifesting and Abundance Resources, Articles and Audio Courses
Read Excerpts from Creating Money
Creating Money Flow
Qualities That Attract Money and qualities that repel money.
Changing Beliefs of Scarcity into Abundance
Exercise: Creating Abundance: Changing a Belief
Exercise: Creating Abundance: Affirmations
Developing a Manifesting Consciousness Tips for Effective Manifesting
Affirmations for Creating Abundance
Are you attracting or repelling money? Close your eyes and think of a number between 1 and 42.
To see what quality to work on to attract abundance go to Qualities That Attract and Repel Money
Divine Manifesting with Divine Will
Article: Divine Manifesting, What is It?
Exercise: Divine Manifesting with the 7 Divine Wills
Daily Affirmations and Book Excerpts
Receive your personal Abundance Affirmation for creating money and abundance.
Receive a daily quote from the Creating Money book to increase your abundance potential.