Current Light Body Seminar Information
DaBen's graduate light body seminars teach DaBen's latest work and are always about bringing through energies that are new to the earth plane. Participants are the pioneers of opening this energy. You are at the leading edge of human consciousness as you explore these energies, playing with new energies and patterns of light and consciousness that have not previously existed on the earth plane.
Go here to read about our latest graduate light body seminars. You can participate by coming in person or participating remotely online, from a place of your choosing.

Important teaching information to read before ordering materials:
Qualifications to Teach
General Teacher's Information
International Teacher's Information

You can use Thaddeus' music for your classes, royalty-free. Read more about this at permission to use Thaddeus' music royalty free. We have suggestions for what music to use for the light body centers available. You can view additional information about each music piece. All Thaddeus' music is approximately 30 minutes in length and is made to use as background music for your meditations. To listen to Thaddeus music samples, and to order, go to the Thaddeus' Music Listening Room. If you want to sell this music to your students and purchase it at a discount, go to our wholesale policies.
We want to support you in being a light body teacher with the following materials. These are designed to assist you as a teacher and to assist your students so that they can have the best possible experience as they awaken their light bodies and learn light body skills. Feel free to contact us if you have any questions. We are happy to be of assistance and wish you success in your teaching.
Color Light Body Image Now Available to Use for Your Flyers and Website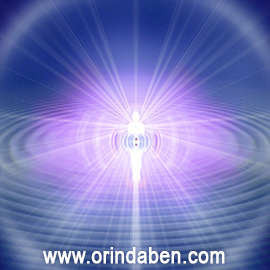 We have prepared an image that we are making available to all Awakening Your Light Body Teachers for a small fee and a signed agreement. We are hoping that by providing an image of the light body that all light body teachers can use, it will become an easy way for people seeking light body classes to identify light body teachers who are teaching the light body as originally taught by DaBen through Duane. We will be allowing all Light Body teachers the use of this background image, without the words, in specific ways to promote your light body classes, with a signed agreement with LuminEssence.
We realized there are many ways to use an art image, and want to keep the light body image special, as something that identifies that you are teaching
Awakening Your Light Body
classes. To do so we realized we needed to be clear (thus the agreement) about how the art image of the light body can be used. You can
view the agreement here
.
Teaching Awakening Your Light Body courses:
Awakening Your Light Body Course: View information on the six-part DaBen and Orin Awakening Your Light Body course.
Awakening Your Light Body Sponsor's Guide: Free guide for Awakening Your Light Body graduates to use as a guide for sponsoring others with their 6 part DaBen and Orin Awakening Your Light Body course. This Sponsor's Guide is already included in DaBen and Orin's six-part course, at the back of the booklet that comes with Volume 6. You can download this free: Light Body Sponsor's Guide; LBS
Awakening Your Light Body PDF Manuals for the Six-Part Course
If you have taken DaBen and Orin's Awakening Your Light Body six-part course you may purchase light body PDF manuals for each album. You can log-in and check your special offers in the member's area to see what PDFs you are eligible to purchase.
Read about International Light Body sets in other languages.
Awakening Your Light Body Teacher's Agreements and Internet Forms: To be an official light body teacher, and to be listed on our website as a light body teacher, you will need to sign and return these agreements. They are included in the Radiance: Transmitting Light Teacher's Manual, and in the free PDF Teacher's Manual. You can print and send us the Awakening Your Light Body teacher's agreement.
Awakening Your Light Body Teacher's Guide: Free PDF Teacher's Manual for graduates of Radiance: Transmitting Light for teaching the Awakening Your Light Body course as taught by DaBen and Orin. This is the same manual that comes with the Radiance: Transmitting Light course LB851.
International Awakening Your Light Body Teachers: Please make sure your students listen to certain of "DaBen Journeys to Play for Your Classes" from the six-part DaBen and Orin Awakening Your Light Body album (LB111-LB116). As a light body teacher, you are required to own either the six- part course, or the International Light Body Study Course, LB001. DaBen feels it is important for all light body students to have the opportunity to experience his transmissions of the centers in addition to your transmissions.
You may either play the 9 DaBen journeys in your classes, or have your students order the 6 part light body course, or order these International Light Body Study course and listen to DaBen's transmission of the light body outside of class times. The nine required DaBen journeys, plus 3 suggested DaBen journeys, are available as the International Light Body Study album (LB001). Includes the English transcript of these 12 journeys.
---
Copy/Share Information for Light Body Students
Feel free to share this course with others once you have completed all six courses in this series (Parts 1-6) and are an Awakening Your Light Body graduate. However, permission is given for you to share these light body journeys with one other person who is a partner, spouse, special friend, or loved one who wants to take this course with you at the same time.
We ask that you do not copy this course onto any format for sharing. You may not post these audio journeys on the Internet. Please do not copy or transfer these copyrighted journeys to other people via audio listening devices, other digital media, file sharing programs, or other methods. Please review our Copyright and Permissions page.
We have repeatedly found that when people are ready for the course, their soul, higher self, guides, and the Divine within will provide them with all the resources they need to take this course. Our experience teaches us that those who purchase or make an investment in the course not only value the course, but finish it as well. Thank you for assisting and supporting us in keeping the work out in as pure a form as is possible.


If we have your Email address, you can receive special messages from us just for you, a Light Body graduate, in our Light Body eNewsletter. We send these 2-4 times a year, and they can include links to online audio light body meditations as well as current seminar information and other light body news. If you have not yet given us your email address, need to change your email address, or if we do not know you are a light body graduate, please create a membership, log-in and let us know about you and to receive our free newsletter. You can also sign our Guestbook to let us know about you and to receive our free newsletter. All information you give us is confidential; we never share or sell your contact information.


Read our Light Body Teacher's Announcement page for updated teacher's information.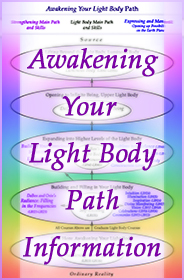 Click on the small color graph "Awakening Your Light Body Path Information" for a study guide. This explains What's Next after you graduate from the light body. It explains the light body and how the graduate courses relate to each other.
General Teacher's Information
Read Qualifications to Teach for all the requirements and qualifications for teaching Light Body courses.
View Teaching Materials for teaching materials information
Visit the wholesale policies for other products you may want to sell to your students.
Download the free PDF Teacher's manual
Link to Our Site

View our listing of light body teachers and check your records for accuracy and information.
To be listed on our site as a light body teacher Fill out the Internet Listing Form
and your Awakening Your Light Body Teacher's Agreement
Please enter your student's names and addresses by logging in to the Member's Area and click on the Light Body Teacher link.
Light Body Student's Privacy Policy: All information you send us is completely confidential.
A suggested list of how to use Thaddeus' music with light body journeys.
View more information about each piece of Thaddeus' music, go here.