Excerpt from Living with Joy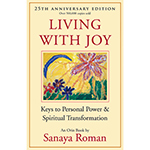 Chapter 2 You Can Live Joyfully
Greetings From Orin!
There is not just one thing you are here to do, for each thing you accomplish becomes part of an earlier step and another stage of your evolution. Each experience flows from earlier experiences. Some of you step sideways, trying out new and seemingly unrelated things, to bring in new skills on the journey upward. Some of you find form for your work. Do not judge purpose by the standards of others, or by what society has told you are the best things to do.
You may be here to develop inner peace and radiate that quality outward, making it available to others. You may be here to explore the realm of the intellect or the business world, to assist the thoughtforms on the planet at that level. Compassion is outside of judgment. It is simple acceptance, the ability to love and to value yourself and whatever path of higher purpose unfolds.
Every person has a purpose
and a reason for being on Earth.
There is tension worldwide at almost all times, but there is also great opportunity available for those who focus on the positive and are willing to take responsibility for everything they create. Energy is available to those who are intuitive and healing and on a path of joy. That energy brings you the opportunity to have great abundance and joy now.
Many of you are moving ahead rapidly. You have been on an accelerated path of growth so that you may heal and teach others who are following. Some of you, such as authors and writers, may be years ahead of the mass thoughtforms, as it is necessary for you to be in the flow of the times when you release your work to the world. Not everyone is experiencing the same transition at the same time.
Take time right now to ask, "what is the higher purpose of my day today?" Or perhaps ask, "What is the higher purpose of the next hour?" Just asking this questions brings you insights about your purpose and allows you to receive guidance and information from your higher self and soul.
---

Additional Resources
View all Living With Joy Products

Living with Joy 25th Anniversary Edition Audio Book read by Sanaya Roman
Unabridged MP3 Download version of the book

Audio Courses to Go with book
Volume 1 Living With Joy 8 guided meditations by Orin to go with book.



Volume 2 Taking a Quantum Leap 8 guided meditations by Orin to go with book.
Audio Short Course


Living With Joy teaches the principles in the Living With Joy book and contains one program of affirmations and a guided meditation by Orin.

Single audio meditations to Live with Joy by Orin: Feeling Inner Peace; Self-Love; Being Happy; I am Loved, I am Lovable; Getting In Touch With Your Power, and Staying in Your Center.
View a list of all Single Meditations
Visit Orin's Meditation room for a free meditation on joy.

Living With Joy book: Learn how to love and nurture yourself, set boundaries, radiate love, feel inner peace, open to receive, take a quantum leap, and live in higher purpose. Sound a note of joy as you move through the day. Go here to read an Introduction and Excerpt from the anniversary edition of Orin's Living With Joy book.
View all Living With Joy Products including Orin's audio albums to live with joy.
Enjoy our weekly book excerpt, and our weekly written guided meditations.
Receive a message from the Living With Joy book by going to the "Creating Your Highest Future" room. Click on the Living With Joy book picture, and read the message that comes up.
Receive your personal daily joy affirmation in the Daily Affirmation Room.
Grow with joy rather than struggle article
Light Play: Knowing Joy: Recognizing the Good in Every Situation
Light Play: Creating Joy: Focusing on the Positive