Spiritual Growth Book Excerpt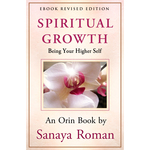 Chapter 2 Creating With Light
Greetings from Orin!
Light is one of the most powerful forces in the universe. You might think of light as a living presence that can be anywhere or everywhere at once. It responds to your thoughts of it. Light is present in all known universes, although not in exactly the same form as in yours.
Light is a potent force of transformation; that is why the new wave of light that is moving through your universe is creating so many changes. You can use light to strengthen your connection to your Higher Self and soul. You can call upon it to transmute energy and to empower and heal yourself and your loved ones. Light can increase your vibration, amplify the strength of your positive thoughts, and open your heart. You can link with it, harness its power, and create good all around you.
The amount of light on your planet is reaching critical mass; the forces of light are growing stronger every day. That means everything you do that is positive and loving is more influential than anything you do that is not. It was not always this way. In the distant past, the power of light on your planet wasn't as great. It took a great deal of intent and focus to create something good. It took a lot of work to shift energy to a higher order. As the forces of light continue to grow stronger, even a small step toward your higher good and spiritual growth will take you further faster than at any time in the past.
Your intuitive understanding of what light is and how to connect with it is more important than any definitions I could give you. If I were to say to you, "Connect with light," you would instinctively know how to do that, for your Higher Self and soul are always connected with light. As you think of light you begin to vibrate with your Higher Self and soul.
Call light to yourself
and fill yourself with light.
You can bring more light into your life by thinking of it. Light responds to your thought of it; as you think of it, it is immediately drawn to you. At first it is easier to draw light to you than it is to radiate light. As you think of light more often, you will become charged with light, building a radiant body of light all around you. The more light your body can hold, the higher your vibration and the greater your ability to transform the energy around you into a higher order.
Imagine you are standing under a waterfall of sparkling light, and that your body and aura are becoming more and more radiant. Feel light flowing through your body. Just thinking of light will rejuvenate your body at a cellular level and increase your available energy. Light can lift you to your next level of growth and dramatically change what you experience.
Connect with light for a few moments during the day–at work, in your car, at home, or in a store. Every time you connect with light you are building a bridge between yourself and the higher realms. As you build this bridge of light you will become more radiant and effective on the earth plane in whatever you are doing.
A very powerful use of light is to imagine that you are putting up a sphere or cocoon of light around you, which extends above your head and below your feet. Do not think of light as protection, but as an energy that is so strong it raises the vibration of everything around you. Use this image to create within you a feeling of strength, harmony, and love. When you surround yourself with light you do not have to build a wall around you to keep things out; your light will transform every thing around you into a higher vibration.
---

Recommended Listening


Spiritual Growth Audio Book (SGE) Unabridged book, read by Sanaya Roman, includes 21 short guided meditations at the end of the each chapter available as a separate track. These are not the same as the meditations in Volume 1 and 2 below, as they are from 4-7 minutes each.



Spiritual Growth Volume 1—Raising Your Vibration (SG101) 8 guided deep-level meditations by Orin to go with the book. Experience many expanded states of consciousness to open your heart, to calm your emotions, to accelerate your spiritual growth, to work in probable realities to choose the reality you want, to expand and contract time, to lift the veils of illusion, to learn right use of will, and to become transparent.



Spiritual Growth Volume 2—Being Your Higher Self (SG102) 8 8 guided deep-level meditations by Orin to go with the book. Become your Higher Self, create miracles with light, send light to others, connect with the Universal Mind, flow with the Higher Will, work with the masters, see the bigger picture, and allow your higher good. Learn to let go of anything that does not serve your higher good and experience more inner peace.



Spiritual Growth Meditation/Affirmations Program 1: Affirmations and Program 2: Journey by Orin to assist you in deepening your experience of, and putting into practice the information you read about in the Spiritual Growth book.
View a list of all Single Meditations
Spiritual Growth, Articles and Products on Our Website


Recommended Reading
Orin's Spiritual Growth - Being Your Higher Self book. Now available in printed and eBook formats!
Be your Higher Self in everyday life and move to a higher state of consciousness. Receive answers and guidance from your Higher Self. Work with light, connect with the Universal Mind and Higher Will. Learn non-attachment; right use of will; travel into probable realities; and experience more joy, harmony, peace, and love.
Note: Revised eBook is updated, however the information is essentially the same as in the printed book.
Note: If you have purchased the revised eBook edition since June, 2011, you have the latest edition.
View all Spiritual Growth products
View all Orin and DaBen books

Book Excerpt for Spiritual Growth
Blending with Your Soul
Receive Soul Guidance/Working with Energies Present
Exercise: Asking for Soul Impressions
Exercise: Recognizing Soul Impressions
Exercise: Receiving Soul Impressions Throughout the Day
Orin's Path of Self-Realization
Information on Teaching Spiritual Growth