Spiritual Growth Book Excerpt
Chapter 10 Allowing Your Higher Good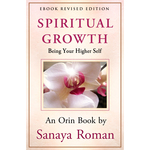 Greetings from Orin!
You deserve to have a wonderful life filled with love, abundance, good friends, excellent health, and loving relationships. As you open to your higher good you are aligning with your Higher Self and soul. Start by believing that a good life is naturally yours, not something you have to earn or pay for. It is the higher plan of the universe for all beings to have lives of beauty, harmony, and abundance.
The principle of allowing is very important. You allow things into your life easily and effortlessly all the time. There are many things you think you deserve, and you do not think twice about having them. You can increase the good you bring into your life by learning how to allow yourself to have what you want.
You do not have to do anything to "deserve" your higher good. You are a good and worthy person. People who have abundance, loving relationships, and happiness are not more deserving or better than you. They simply allow more good things to come into their lives.
Think of some of the good things you easily allow into your life right now. Give yourself a moment of appreciation for being able to allow your higher good in these areas. If every night you mentally made a list of all the good things you allowed into your life that day, you would more easily learn how to allow even more good things into your life.
Everything happens for your higher good;
the universe works in perfect ways.
As you grow spiritually, many good things will come to you. Your ability to accept them will accelerate your growth. You don't have to struggle; you can allow your higher good to flow easily into your life. Everything that happens can serve you and bring you joy.
If something is going well and you find yourself saying, "Things are too good to be true–I wonder how long this will last? STOP! Instead, challenge yourself to imagine things getting even better. Think of something that is working well in your life. See it becoming even better.
You can have a life that works perfectly. You don't need to accept problems and crisis as a way of life. Let go of the worries, struggles, and problems in your life. Simply allow them to leave. Give them permission to go. Eliminate the word "trying" from your vocabulary, for it invites more struggle. Instead of saying "I am trying to do this well," say "I am doing this well."
Open to receive and believe you deserve even more than you can imagine yourself having. If you received a check for an enormous sum of money from a friend who wanted to give it to you, would you accept it freely? Or would you look for hidden strings? Imagine now that this friend has unlimited wealth and wants to give it to you because he or she loves you, and there are no strings attached. Would you accept it? Think of your Higher Self and soul as your loving friends of infinite wealth, waiting to give you everything you are open to receiving. Spiritual growth, love, joy, and abundance are all waiting for you to accept them into your life.
You needn't feel guilty about receiving everything you want, having your life work, and being happy. Open to receive; know that as you do, you are not taking from others, for other people's Higher Selves and souls are willing to give to them too–as much as they can allow into their lives. Believe that unlimited abundance exists for everyone, for it does. It is waiting only for them to claim it and give it permission to come into their lives.
Your Higher Self and soul love you and want to give you true happiness, deep inner joy, and all the love you can imagine. Acknowledge every time you receive something, knowing that you deserve to have it and you have allowed it to come to you. As you learn to allow small things into your life, you can learn to allow bigger things as well, such as your spiritual growth and a life filled with laughter, abundance, and love. The more you open to the feelings of allowing and deserving, the more rapidly you will grow and be your Higher Self and soul.
---

Recommended Listening


Spiritual Growth Audio Book (SGE) Unabridged book, read by Sanaya Roman, includes 21 short guided meditations at the end of the each chapter available as a separate track. These are not the same as the meditations in Volume 1 and 2 below, as they are from 4-7 minutes each.




Spiritual Growth Volume 1—Raising Your Vibration (SG101) 8 guided deep-level meditations by Orin to go with the book. Experience many expanded states of consciousness to open your heart, to calm your emotions, to accelerate your spiritual growth, to work in probable realities to choose the reality you want, to expand and contract time, to lift the veils of illusion, to learn right use of will, and to become transparent.



Spiritual Growth Volume 2—Being Your Higher Self (SG102) 8 8 guided deep-level meditations by Orin to go with the book. Become your Higher Self, create miracles with light, send light to others, connect with the Universal Mind, flow with the Higher Will, work with the masters, see the bigger picture, and allow your higher good. Learn to let go of anything that does not serve your higher good and experience more inner peace.



Spiritual Growth Meditation/Affirmations Program 1: Affirmations and Program 2: Journey by Orin to assist you in deepening your experience of, and putting into practice the information you read about in the Spiritual Growth book.
View a list of all Single Meditations
Spiritual Growth, Articles and Products on Our Website


Recommended Reading
Orin's Spiritual Growth - Being Your Higher Self book. Available in printed and eBook formats!
Be your Higher Self in everyday life and move to a higher state of consciousness. Receive answers and guidance from your Higher Self. Work with light, connect with the Universal Mind and Higher Will. Learn non-attachment; right use of will; travel into probable realities; and experience more joy, harmony, peace, and love.
Note: Revised eBook is updated, however the information is essentially the same as in the printed book.
Note: If you have purchased the revised eBook edition since June, 2011, you have the latest edition.
View all Spiritual Growth products
View all Orin and DaBen books

Book Excerpt for Spiritual Growth
Blending with Your Soul
Receive Soul Guidance/Working with Energies Present
Exercise: Asking for Soul Impressions
Exercise: Recognizing Soul Impressions
Exercise: Receiving Soul Impressions Throughout the Day
Orin's Path of Self-Realization
Information on Teaching Spiritual Growth