Download Cover
[
Click to Print
]
Welcome to DaBen's Awakening Your Light Body Expanded Course!
This expanded light body course teaches you how to follow the light body centers into their unmanifest potential, as well as to learn more about each center and how to follow it into other dimensions and spaces. As you learn these expanded spaces, you are opening up potential to vastly increase your inner light and radiance, and thus what you draw to yourself. It allows you to become an even brighter light, radiating more light to everyone you know simply through your words, deeds, and presence.
As you experience the light body centers in a new way, such as DaBen teaches them in this course, you can experience a higher level of flow–in your body, emotions, and thoughts. You can use the light body centers to be more presence in each moment, aware of the choices you are making and making higher choices that bring you better results. As you expand your light body, you can be in harmony with the universe and experience the synchronicity possible when you are in the flow.
This course will give you new skills with the light body that will assist you to:
Explore the expanded energies of each center with the DaBen journeys on each of the vibrational energy and light body centers.
Discover more detail and awareness of each of the centers, how they affect the light body, and how to work with them to have powerful and more intense experiences of advanced light body states.
See more about how the light body centers connect with each other, the transitions between the centers, and much more about the light body than was taught in the first six courses of the light body audio series.
Build a stronger power base so you can more fully integrate the new energies and expand in a balanced way.
See, experience, and become aware of energies in these centers that you have never been aware of before.
Explore and learn much more about how to stay in and deepen your experience of emotional flow.
Discover more about mental fluidity, heightened mental states of creativity and clear thought.
Explore your life purpose from the expanded state, learn more about it.
Every moment has potential in it; learn how to sense and open up to the potential in every moment.
Increase your ability to experience different types of energy and new energies.
If you are just finishing the light body course, or are a recent light body graduate, this course allows you to have a deeper, richer experience and understanding of the light body centers. If you have played with the light body for years, have taken many graduate light body courses or if you are a light body teacher, you will be able to track and enjoy the advanced light body spaces that DaBen will be teaching and transmitting during these journeys as well as learn more about the light body centers.
If you have awakened your light body and have not played with light body spaces for awhile, reconnect with the centers and explore how you can use your light body to continue to awaken to higher energies and spaces. Explore the new energies present on the Earth plane, shifts in energy, and new doorways that are opening to higher dimensions. DaBen wants to show you some of the enhanced states of consciousness you can now experience with your awakened light body.
Course contains 24 journeys by DaBen, talks by Duane and written material. PDF booklet with transcripts is an online product (there is no printed version that will be sent to you). The PDF for this product will appear in your Member's Area under "My Downloads" after purchase for you to view online, or to print.
---
Prerequisites To understand DaBen's instructions and experience the wonderful expanded states of consciousness he offers, you need to be an Awakening Your Light Body graduate with knowledge of the 7 vibrational energy and 3 light body centers as taught by DaBen through Duane Packer.
---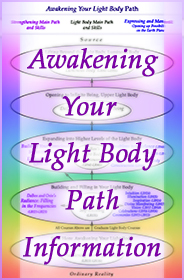 This course is taught at the light body consciousness level where you are expanding into higher levels of your light body. The chart below indicates key states of consciousness, skills, qualities and experiences for courses taught at the light body consciousness level (not all states are taught in each course).
Click on the small color graph "Awakening Your Light Body Path Information" for a study guide that explains the light body path and how the graduate courses relate to each other.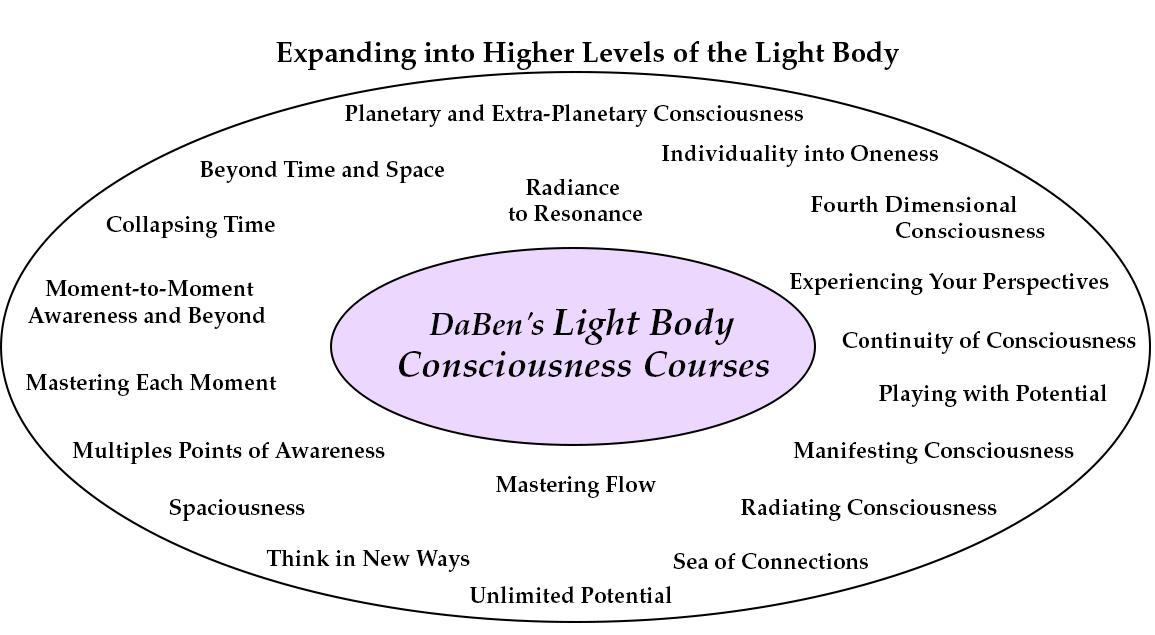 ---
Recommended Graduate Light Body Courses to Continue Your Study
DaBen's Radiance: Self-Exciting course:
To continue study, if you have not yet experienced the Self-Exciting level courses, we recommend these as a next step, particularly DaBen's Radiance: Self-Exciting course (LB131). The Self-Exciting skills set the foundation for retaining your experience of the light body and are an important skill to acquire to develop your ability to sustain and maintain your consciousness in higher levels of reality. These skills can be used to bring the light, understanding, and insights you gain into your everyday reality.
---

DaBen's Light Body Consciousness courses: If you have already taken DaBen's Self-Exciting course (LB131), we recommend working next with DaBen's Light Body Consciousness courses, (LB941-LB945) as a suggested next step.These teach you invaluable skills for moving into higher dimensions and consciousness. You will learn how to perceive higher energies, discern what energies to pay attention to, develop your ability to focus on them, and find and follow the highest flows. You will discover how to move into stable places in the energy so you can go higher, learn how to move into pure experience beyond thought, and express the high energies into your life. These are invaluable skills that form a base for any explorations of higher energies and dimensions, the beings there, and yourself as you exist in these higher realms.
---
If we have your Email address, you can receive special messages from us just for you, a Light Body graduate, in our Light Body eNewsletter. We send these 2-4 times a year, and they can include links to online audio light body meditations as well as current seminar information and other light body news. If you have not yet given us your email address, need to change your email address, or if we do not know you are a light body graduate, please create a membership, log-in and let us know about you and to receive our free newsletter. You can also sign our Guestbook to let us know about you and to receive our free newsletter. All information you give us is confidential; we never share or sell your contact information.

---
---
DaBen's New Graduate Light Body Seminars

Seminars are at the Rogue Regency Inn and Suites in Medford, OR. Join us live or participate online.
Follow the links for more information and to register:

Series: Transforming with Light
This series of seminars is earning rave reviews! Part 1 is available now, and the feedback we have had from people who took Part 1 has been very enthusiastic. People have been able to experience light and types of light that are new to them, that opened vast vistas of consciousness for them. They felt very expanded and like new doors had opened into some amazing energies they never knew existed. Come and join us for one or more of the seminars in this series!
This series is composed of a Main seminar with 22 DaBen journeys, and a Light Play course following with 16 additional DaBen journeys. The Light Play seminars build on what you learn in the Main seminar, further enhancing and developing your ability to transform yourself and your life with light.

Part 1: Playing the Layers of Light: Opening the Portal LB974 Available now!
Part 1 Continued: Your Opening in Light: Finding Your Unique Energy with the Layers of Light LB711 (Prerequisite is Playing the Layers of Light LB974) Available now!
In Part 1 you will learn how to open the portal to new types of light as you play the layers of light. This new light can transform your consciousness. You will meet some amazing beings who live in the light realms and help you open the portal so that this new light can be consistently available to you to live and play in.
---

2019 October 18-23 Part 2
Main Seminar: Assimilating Light: Your Nature as Light LB975 Friday - Sunday, October 18-20, 2019
Light Play Seminar: Discovering Your Light Signature: Openings and Dimensions of Light LB712, 2-day Light Play seminar Tuesday, Wednesday October 22-23 (Prerequisite is the Main Seminar, LB975)
---

2020 April 17-22 Part 3
Main Seminar: Inventing Avenues of Expression for Light: Playing at Creating with and in Light LB976 Friday - Sunday, April 17-19, 2020Light
Light Play Seminar: Creating Your Light Realities: Insights and Actions in Ordinary Reality LB713, 2-day Light Play seminar Tuesday, Wednesday April 21-22, 2020 (Prerequisite is the Main Seminar, LB976)
---

2020 October 23-28 Part 4
Main Seminar: Living as Light: Beyond Earth Life LB977 Friday - Sunday, October 23-25, 2020
Light Play Seminar: Living in the Light of Earth LB714, 2-day Light Play seminar Tuesday, Wednesday October 27-28, 2020 (Prerequisite is the Main Seminar, LB977)

---
Prerequisites You must be an Awakening Your Light Body Graduate to take any of the Transforming with Light courses above. To participate in the two-day Light Play seminars, you will need to have taken the Main Seminar as a pre-reqisite, as the Light Play seminars build on what was taught in the Main seminars. You can have profound, life-changing experiences throughout DaBen's journeys at any level of light body study.