Download Cover
[
Click to Print
]
Will 3 Evolving Your Consciousness: Stepping Onto Your Highest Path
Welcome to Orin's Divine Will in-depth course series, originally taught as live seminars. In this Divine Will course, you will connect with your soul and the Will to Evolve to find and step onto your highest path, and to experience the wisdom of your soul and to know its purpose. You will play in the infinite potential of the Universal Mind where you will meet your future enlightened Self. This Self will light up your highest path, a path that leads to enlightenment in the most effective, direct way; that accelerates your evolution, and that aids you in manifesting your highest potential in this lifetime.
Your enlightened Self will send you energy to sense, see, and follow your highest path in each moment, and aid you in rejecting lesser paths and choices. Your enlightened Self and soul will infuse you with strength and courage, and any other qualities you need to recognize and to turn away from lesser paths and directions.

You will be guided by Orin to look over your life as it exists now, open up stuck places, and replace lesser patterns with patterns that are more aligned with Divine Will and the higher purpose of your life.You can weave new, higher patterns into your life that will appear as new circumstances and opportunities, and positive changes in your relationships, career, well-being, and financial state. As you set your intention and commit to following your highest path, you become magnetic to all that you need to manifest this path. Learn more about the Will to Evolve. Course contains 9 journeys by Orin, talks by Sanaya and written material.
PDF booklet with transcripts is an online product (there is no printed version that will be sent to you). The PDF for this product will appear in your Member's Area under "My Downloads" after purchase for you to view online, or to print.
Orin's Transforming Your Consciousness:Clearing Lesser Energies, Illusions, and Limitations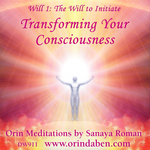 In Orin's Transforming Your Consciousness course, you will link with Divine Will 1, the Will to Initiate. In this Divine Will course, Part 1, you will connect with your soul and the Will to Initiate that brings the spiritual power to release thoughts, illusions, lesser energies, and obstacles that stand in the way of living as your soul–free, joyous, clear, loving, and harmonious. You will learn how to use the power of your soul's light and Divine Will to release lower, denser energies, emotions, and desires that keep you stuck or limit you in some way.
If you haven't yet studied Divine Will, we recommend that you start with Orin's Transforming Your Life with Divine Will MM050, which works with Divine Will and your soul. This series of courses is meant to help you explore aspects of each Divine Will quality, but the 3 courses in this series do not teach you all the qualities of Divine Will nor do they give you the overview and more complete learning provided in MM050, Living a Soul Life with Divine Will MM060, and Divine Manifesting with the Divine Self and Divine Will, MM070. If you have studied any of these courses, (MM050, MM060, or MM070) and want to explore some of the Divine Will qualities more deeply, these 3 Divine Will courses will offer you ways to do that. (DW911, DW912, and DW913).
As you release these energies you can change lack and limitation into abundance. You can transform the way you experience yourself and positively change your relationships, activities, behaviors, thoughts, feelings, desires, and emotions. You can learn to set clear boundaries and to live a life that honors who you are. Through listening to Orin's journeys, you will discover techniques you can use at any time to easily release energies that make you feel tired, worried, tense, fearful, or that lead to pain and suffering. You will learn that these energies are not yours, but instead energy you have taken on from mass consciousness. You will work with the power of your soul's light to release these unwanted energies so you can experience joy, peace, and harmony in every area of your life.
Orin guides you to meet and work with your Solar Angel, the angel of your soul, a guardian angel, to transform your emotional body so it can reflect your soul's pure love as you stand in the "burning ground," the aura of this Angel that burns away all lesser energies. You will work with your Solar Angel to transform your mental body so you can release thoughts that have kept you bound to a lesser vibration so you can create a higher future.
You will use symbols to build a bridge to your higher mind and the Universal Mind, so you can better hear your intuition. You will be guided to connect with the Masters to receive messages and energy for your evolution.
Using the processes taught in this course your inner light can shine more brightly, your path can be clearer, and you can express your true, authentic Self more easily. You can release fears, worries, obstacles, and limitations that are holding you back, and move past all previous limitations to create the life you want. Learn more about the Will to Initiate. Course contains 10 Orin journeys, talks by Sanaya, and extensive written material.
---
Orin's Experiencing Continuity of Consciousness:Discovering Your Soul's Path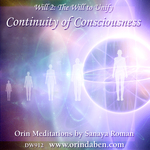 In Orin's Divine Will Continuity of Consciousness course, Part 2 of the Divine Will In-depth series by Orin, you will connect with your soul and the Will to Unify to increase your spiritual vision. You will be guided to explore your soul's path throughout many lifetimes, so you can discover more about your past and future lifetimes on earth.
As you listen to Orin's journeys and remember more about your past and future lives, you can deepen your awareness of the continuity of consciousness that has existed throughout all your lifetimes on earth, including before you chose to live earth lives, and in between lifetimes.
With this awareness, you can gain more understanding of this lifetime and why you have certain feelings, inclinations, directions, relationships, patterns, attitudes, beliefs, preferences, talents, and skills. You can learn more about the higher purposes that have appeared throughout your lifetimes, aiding you in discovering more about your higher purpose and what you are here to do in this lifetime.
You will have a chance to connect with your future selves, and to meet and receive energy from your future enlightened Self to accelerate your spiritual evolution. You will be guided to experience higher levels of your being and to strengthen the continuity between your consciousness in these higher levels and in ordinary reality. This can assist you in maintaining a higher awareness, and in being better able to experience the wisdom, power, and love of your soul throughout the day.
Continuity of consciousness can give you new perspectives about every area of your life and being. You can find aspects of your path and purpose becoming visible that you were not aware of before. You can discover new avenues to explore; have fresh, original ideas, an expanded sense of self; and greater creativity. Learn more about the Will to Unify. Course contains 6 Orin journeys, talks by Sanaya, and extensive written material.


Special Offer: Buy all 3 courses at the same time and save!
These 3 courses teach the first 3 qualities of Divine Will. These are the 3 major Divine Will qualities that are very potent, and can greatly transform your life and consciousness. Because Orin feels that working with all 3 courses together will assist you in experiencing a greater shift than working with the courses individually, to assist you we are offering you a special discounted price if you purchase all 3 courses at the same time.
Courses include: Will 1: Orin's Transforming Your Consciousness, Will 2: Experiencing Continuity of Consciousness and Will 3: Evolving Your Consciousness.
Download offer: These 3 download albums ($59 each) are $177 if purchased separately. Purchase all 3 courses at the same time for $145, and save $32.00.
Download offer includes 3 free MP3 Thaddeus music track downloads with purchase.
---
Further Your Divine Will Study with these Orin Divine Will Audio Courses:
Audio Courses


Transforming Your Life with Divine Will
If you would like to work with all 7 qualities of Divine Will, you can learn them in this course. Orin will give you an overview of the 7 Divine Wills, and learn how to call upon each of the 7 Great Ones transmitting Divine Will to transform your life and consciousness. Gain more spiritual power, initiate new awareness, awaken spiritual vision, evolve your consciousness, expand your wisdom, let go of battles, deepen your intuition, have illumined thoughts, follow the highest light within you, and create heaven on earth. Course consists of 12 audio meditations by Orin and extensive written material.

Will 4: Intuition—Connecting with Your Divine Self
Call upon and receive energy from the 4th quality of Divine Will, the Will to Harmonize. Work with this quality of Will to link with your soul, and then to open all channels of communication to your Divine Self, the source of intuitive guidance. Through this connection, you can awaken your clairvoyance and clairaudience, and clear emotions and thoughts that stand in the way of your receiving, hearing, and correctly interpreting your intuition. Deepen your intuition and receive intuitive guidance about your life and relationships. 10 Orin journeys, talks by Sanaya and written material.

Will 5: Illumination—Awakening Your Higher Mind
Link with the 5th quality of Divine Will to link your mind with your higher mind and Universal Mind for an illumined mind. Experience the infinite perfection, beauty, and truth that are your birthright. Claim your unlimited abundance and experience joy, harmony, good health, loving relationships, and peace. Let your thoughts lead to your liberation, freedom, and enlightenment. 10 Orin journeys, talks by Sanaya and written material.
---

There are currently no scheduled Orin live seminars. Please read more about DaBen's current seminars for information.
You can read about Orin's newest course Connecting with Your Guide, Receiving Clear Guidance (C201). This course will assist you in making a good, clear, strong connection to a guide whose purpose is to assist you in receiving clear guidance, either directly into your mind, or through channel aloud. You will then learn more about how guidance comes about, how to view the bigger picture, see into the details, go out into time, and get guidance so clear that you can take action on it.
Orin has a new series of audio courses called Orin's Path of Self-Realization audio courses. This is a major work by Orin that has been several years in the making. This is composed of three series of courses so far:
Orin's Transcending Your Ego courses (six volumes, with 72 guided journeys and manuals). You can read a short description of all six at this link.
Orin's Becoming Your Divine Self courses (three volumes, with 36 guided meditations and manuals).
Orin's newest course: Asking and Receiving from Your Divine Self
Announcement by Sanaya About Future Events With Orin
As you can read in Orin's message about the path he is offering, all of his work from his first book and audio course, to his current work, is offering a step-by-step path for you to realize the Divine Self, the true Self as who you are. Read Orin's Path of Self Realization. Realize that the key to Self Realization is in your hands. You have the ability to realize your full potential, to become a fully realized Self. When you are ready, Orin and all of the guides and inner teachers are there to assist you. All you need will be provided for the next phase of your journey to Self Realization. ~Sanaya
Divine Will Free Articles on Our Website
Read what others say they have gained from Studying Divine Will
Read an overview of all of Orin's Divine Will Courses
What is Divine Will and general Divine Will Information.
Align with Divine Will in Orin's Four Alignments Exercises.
Sanaya's story of teaching Divine Will
Orin's introduction to Divine Will
Just starting Divine Will? Read Preparatory Information.
Orin's Divine Will Study Group
Orin's Path of Self Realization to assist you in understanding more about the spiritual path that Orin is offering and to aid you in choosing what courses might be most useful to you right now.
Orin's channeling on Divine Will and the new energies
Go here for information on teaching Divine Will classes.