Download Cover
[
Click to Print
]
Special Offer*
Save $42.00 Buy LB921E-LB923E Download Albums for $195.00
DaBen's Radiating Consciousness
DaBen Light Body Meditations
In this course, originally taught as a live seminar, DaBen teaches you the art and skill of radiating consciousness, including the creativity, discernment, and precision needed to change the energies about you in precise and powerful ways. You will learn a state of radiance and flow that you will radiate to many areas of your life to transform them.
You will learn how to recognize and to radiate consciousness to transform any energies that are ready to shift into a higher vibration, including your circumstances, relationships, environment, daily activities, job, finances, body, mind, emotions, and from all the energies about you. Using these skills can change your relationship to the outer world, how you manifest, how you live, and your sense of mastery and personal power in creating the life you want. There is no end to the transformation that is possible as you become radiant with light.
You will use the radiance state to transform an issue. As you radiate the energy created by building consciousness, you have the opportunity to "transform" what you draw to you and how you experience your life and circumstances. You can learn how to change reality by radiating consciousness, rather than working from a personality level.
As you achieve the ability to stay more consistently in the radiance state you will learn, sending out light and receiving it back, you will find more light, love, flow, peace, and harmony reflected back to you from everywhere in the universe. Gaining some mastery of these skills allows you to open your sense of purpose and of the beauty and perfection of the universe to truly expansive levels. You will learn more about resonance and how to find energies in harmony with yours. The building consciousness states are unbelievably profound, uplifting, and transformational. You can better experience oneness and the Infinite in your earth-plane perspective.
Course contains 10 DaBen journeys with music by Thaddeus, Duane talks, and written material. No Orin journeys. PDF booklet with transcripts is an online product (there is no printed version that will be sent to you). The PDF for this product will appear in your Member's Area under "My Downloads" after purchase for you to view online, or to print.
---
Prerequisites To understand DaBen's instructions and experience the wonderful expanded states of consciousness he offers, you need to be an Awakening Your Light Body graduate with knowledge of the 7 vibrational energy and 3 light body centers as taught by DaBen through Duane Packer.
---
Teachers Note:
To teach the light body skills in the Building Consciousness series, you will need to be a qualified Radiance: Self-Exciting teacher, complete DaBen's Light Body Consciousness courses Levels 1 - 5 and the Light Body and Building Consciousness Teacher's training course.
---
Radiance Building Consciousness:Part 1: Expanding Your Consciousness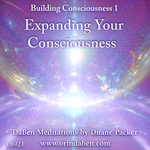 The focus in this course, DaBen's Expanding Your Consciousness is on increasing your ability to perceive more about whatever you focus on, from physical energies in ordinary reality, to your relationships, business, emotions, thoughts, and activities, to the subtle energies to the guides and inner teachers. These courses contain both Self-Exciting and Light Body Consciousness skills, and are a wonderful way to set a strong foundation for learning light body consciousness skills.
Starting with an expanded experience of Self-Exciting, you will discover how to surrender at the level required to expand your consciousness into areas you have never been aware of before. Awareness of these areas in the higher realms will bring you awareness of new areas in ordinary reality as well.
You will learn light body skills to assist you in seeing and sensing the energies about you from a larger spectrum and scale, as well as from an infinitely smaller scale. This allows you to receive clear guidance about both the bigger picture and the details of anything you focus on as you return from these spaces. You can see into the energies in a way that brings you more awareness and insights about the situations in your life and.
You will be guided into states that take you beyond the mind into pure awareness, understanding at an experiential level what consciousness is, and gaining a greater ability to sense the Infinity of the Divine and of your own nature. Expanding your consciousness can transform who you think you are and how you feel about yourself and your life. As you expand and illuminate your consciousness with these skills, you will need to be open to having your personality transform, your perspective expand, the circumstances in your life becoming richer and fuller, and your relationships growing in closeness and love.
DaBen's building consciousness skills taught in this series of three courses are one of the recommended next steps after learning the Radiance: Self-Exciting light body skills. With this series you can greatly expand your consciousness,
Contains 13 DaBen journeys, Duane talks, and written material. No Orin journeys. Music is by Michael Hammer
---
Radiance Building Consciousness:Part 2 Continuity of Consciousness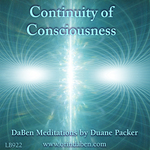 Part 2 Continuity of Consciousness. In this course DaBen leads you on journeys to build a continuous consciousness of yourself throughout time, dimensions, and space; from your unmanifested self to your manifested self; amongst your higher levels of being to your light body, mental, emotional and physical energies, to your atomic and subatomic levels. You will discover your consciousness on a large scale–up to planetary consciousness and beyond. You will track your presence on this planet now, to your presence on other planets millions of years from now.

In this course, you will learn how to experience the connections between yourself and everything you look at. As you view these connections, you can travel out on them to experience higher energies more completely and to merge your consciousness with them. Through finding the connections between yourself and whatever you focus on, you are taken into an experience of Oneness where you are able to dissolve any sense of separateness and experience more of a sense of the Infinite awareness of the All-That-Is. You will learn how to put your awareness many places at once, and explore more about non-linear time.

You will work with beings of light who will teach you how to lift higher into the Infinite, and others who will show you how to expand into areas of consciousness you have never before explored. When you return to ordinary reality you can find your awareness greatly expanded.

You will be guided to experience the continuity that exists between states of consciousness–from alert to dream states, so you can experience many elements of these expanded states in ordinary reality. You will work with continuity of consciousness for physical energy systems and healing, as well as for exploring who you are from birth to death as a continuum. You can better infuse your everyday perspective of your earth plane life with your continuity of existence.
Course contains 12 DaBen journeys, Duane talks, and written material. There are no Orin journeys. Music is by Michael Hammer and Thaddeus.
---

Special Offer: Save $42 - Buy all 3 courses at the same time!

These 3 courses were taught as a sequence by DaBen. Because DaBen feels that working with all 3 courses together will assist you in experiencing a greater shift than working with the courses individually, to assist you we are offering a special discounted price if you purchase all 3 courses at the same time. Courses include:Expanding Your Consciousness (LB921), Continuity of Consciousness (LB922) and Radiating Consciousness LB923

Download offer: These 3 download albums ($79 each) are $237 if purchased separately. Purchase all 3 courses at the same time for $195, and save $42.
Download offer includes 3 free MP3 Thaddeus music track downloads with purchase.
---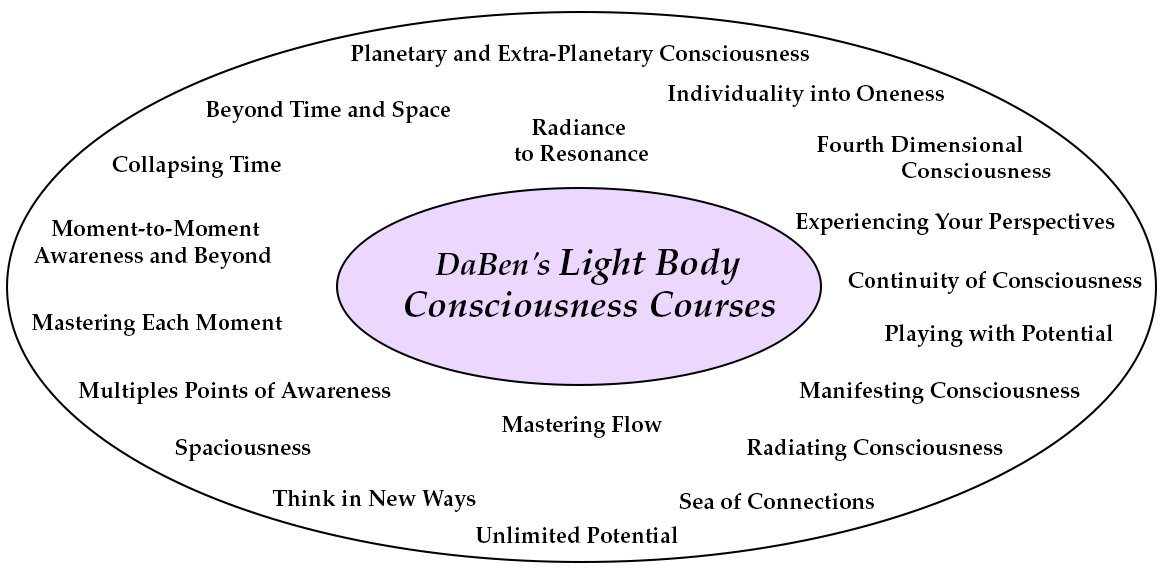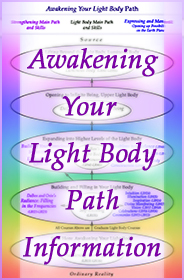 This course is taught at the light body consciousness level where you are expanding into higher levels of your light body. It teaches you light body skills that will strengthen your experience of the five-level Light Body Consciousness courses. The Radiance: Building Consciousness is a three-part series, and taking this series of courses, or going directly into the five-part Light Body Consciousness courses is a good next step after graduating from the Self-Exciting course.
The chart above indicates key states of consciousness, skills, qualities and experiences for courses taught at the light body consciousness level (not all states are taught in each course). Click on the small color graph "Awakening Your Light Body Path Information" for a study guide that explains the light body path and how the graduate courses relate to each other.
---

If we have your Email address, you can receive special messages from us just for you, a Light Body graduate, in our Light Body eNewsletter. We send these 2-4 times a year, and they can include links to online audio light body meditations as well as current seminar information and other light body news. If you have not yet given us your email address, need to change your email address, or if we do not know you are a light body graduate, please create a membership, log-in and let us know about you and to receive our free newsletter. You can also sign our Guestbook to let us know about you and to receive our free newsletter. All information you give us is confidential; we never share or sell your contact information.

---
Seminars will be available as live broadcast, download, and streaming
---

Next seminar in this series starts October
October 21-23, 2022
Being, The Ultimate Reality

Register or read more about upcoming October Seminar here


More information about each seminar will be provided closer to the seminar times.
DaBen's goal for every seminar is to offer you a significant shift in consciousness that is part of a larger path of reaching new and higher states of consciousness with each course. DaBen's goal for every journey is to offer you an opportunity to have a memorable experience. You can listen again and again, continuing to have peak experiences as you do.
In the upcoming seminars, DaBen will offer you yet another immense shift in consciousness.
Each seminar is designed to be experienced and enjoyed without needing to complete the previous seminars in the series. However, every light body course you take will enhance your ability to experience what is being taught in the seminars.
As you open to the energies being offered you can shift into as high a space as you are able to experience. DaBen's transmissions will assist you in opening to a vastly expanded perspective of your life from a higher level, often from beyond the earth plane. In this seminar series, you will reach these higher planes by going through portals, getting to meet and work with some amazing, highly evolved beings as you do.
As a metaphor, you might think of living in one room, where your perspective comes from just that room. Then one day you walk outside, and see that room is part of a house, with a whole environment around it. It completely changes your perspective of your room and your life in it. DaBen equates the room to living from an earth plane consciousness.

As you go through these portals to realms beyond the earth plane, it allows you to explore the nature of reality and discover more about what it is. You will be able to view your life from beyond the earth plane, giving you some interesting and unique perspectives of who you are and what your life is about.
Each seminar is on the leading edge of what DaBen is teaching.
Duane and DaBen have connected with these beings, and they are prepared for and welcoming us to join them so we can experience reality in many new ways.
---
Discover new inner ways to connect with others.

You can enjoy these seminars in many ways, such as through a live feed, with streaming/ download also available. It is wonderful to come together to support each other in rising to a higher level of consciousness, and opening to a greater light. As you do this you can change your life with light.
DaBen is showing us new ways to connect with each other on the inner planes. People have loved connecting with the group energy in these new, inner ways, and have found it to provide a great boost in their ability to experience the higher energies DaBen is transmitting. We also have student-sponsored Facebook groups you can join, as well as Zoom meetings to share your experiences with others.
---
DaBen offers this opportunity for a major shift in consciousness in a concentrated period of time, twice a year, in October and April. There are additional mini-seminars in between to assist you to continue to expand.

To create this shift, DaBen says he needs to bring through a substantial "packet" of energy all at once, in a short time-frame, (such as the longer April and October seminars) so that the energy is complete and extensive enough for it to be established on the earth plane. This allows you to better experience the spectacular shift into higher consciousness that is being offered.
The seminars are offered as a live stream, and the journeys and talks will be available as streaming/download options so you can listen at your convenience. You can "unpack" DaBen's transmissions over whatever time frame works for you.
Some suggested ways to listen to the seminar journeys
DaBen will transmit to you the energies that will assist you in opening to these spaces whenever you listen. Some people participate in the live stream, listening to as many journeys as they can. Others combine listening to the live stream with listening to the streaming/downloads that are available a few hours after the journeys. Some listen to the full set of seminar journeys over a period of days, weeks, or months. DaBen transmits to you whenever you work with the journeys, from his space of no-time.
Each seminar's full complement of energy and journeys are there for you to play with, enjoy, experience, and expand upon whenever you want to do so during and after the seminar times. The feedback we have from people who took these courses has been very enthusiastic.
---
2022 Duane and DaBen's Seminar Information
Seminar Series: Expanding and Creating Light Realities

DaBen will transmit to you individually whatever spaces are next for you during each journey.
There will be 25 or more DaBen meditations and numerous talks in each Main Seminar Friday through Sunday.

There will be 20 or more guided journeys in each 2-day Companion Seminar Tuesday through Wednesday.

For graduates of the Main seminar, there will be four mini-seminars (Fridays, 9AM - 12PM PST) with 6 journeys you can register for to continue to explore these energies inbetween seminar times.

A PDF manual with transcripts of the Main and Light Play seminars will be available several weeks after the seminar.

A zip file will be provided with the talks and journeys of the Main and Light Play seminars, which will include a PDF file with transcripts, several weeks after the seminar.
Ways to Listen:
You can listen to the seminar audio journeys by logging in to the Member's Area, and then clicking on "My Downloads and Seminars." When you
Log In
you will have access to any seminars you have enrolled in.
Live Audio Feed: You can listen to Duane and DaBen's talks and meditations as they are given in real time by clicking on the LIVE AUDIO FEED.

Streaming and Download: Duane's talks and DaBen's meditations will also be posted for streaming and download usually about 2 hours after they are given, as our audio engineer does some preliminary processing and clean up of the audio.

Final Edited Audio: Our studio engineer does post-production audio clean up, so that you can usually pick up the final edited audio about 12-14 weeks after the seminar ends.
---
2022 Graduate Light Body Seminar Dates and Topics

Main Seminar, New Series:

Expanding and Creating Light Realities
Two-Day Light Play Seminar series following the Main Seminar:
Mastering Light Realities

Main Seminar
Each seminar series is composed of a Main Seminar with over 25 DaBen journeys and is complete within itself. $575
Light Play Seminars
The Main Seminar is followed by a Light Play Seminar with 18+ additional DaBen journeys that build on what you experienced in the Main Seminar. $375
For people who have completed the Main Seminar and want more frequent contact, you may enjoy the four Mini-Seminars that are given in-between each Main Seminar. $375

---
---
Part 3:
Solidity in Flow
(LB983) Main Seminar.
Part 3:
Luminous Creativity
(LB717) Two-day
Light Play
seminar to expand upon what you learned in the Main seminar.
---

Part 4:
October 21-23, 2022
Being, The Ultimate Reality
(LB984)
Main Seminar
.
Part 4:
October 25-26, 2022
Evolving and Precipitating in Sequence
(LB718)
Two-day
Light Play
seminar to expand upon what you learned in the Main seminar.
---
To participate in the two-day Light Play seminars, you will need to have taken the Main Seminar as a prerequisite, as the Light Play seminars build on what was taught in the three-day (Friday through Sunday) Main seminars.
There will be four mini-seminars (Fridays, 9AM-12PM PST) offered in-between the April and October seminars for graduates of the Main seminars.
How the Main Seminar and the Light Play Seminar work together
The Light Play seminar will build on what you learned in the Main seminar. The Main seminars taught Friday - Sunday will have a larger focus on the bigger picture, while the Light Play seminars taught the following Tuesday and Wednesday will help you bring what you have learned in the Main seminar into you and your life at a more concentrated, focused level. Once you have taken the main seminar and have some of the bigger general picture and principles, in the Light Play seminars you will discover more about how to integrate this energy and work with it.
What preparation do you need to get the most out of DaBen's seminars?
You can have wonderful, expansive, and breakthrough experiences at all levels of study as you get into the energy spaces DaBen is transmitting. Success with DaBen's meditations is not about keeping up with the group or getting the same thing as everybody else is getting, (because everyone will have a completely unique experience as well). It is about opening to the individual opportunities that are the right ones for you.
During each journey DaBen transmits to you
whatever energies are next for you.
Each light body meditation can bring you incredible experiences and life-changing realizations. You will experience exactly what you need to shift into higher consciousness in whatever way is perfect for you. You can experience states of consciousness that are peaceful, flowing, expansive, mystical, and deeply transformative as you participate in DaBen's seminar journeys. Each DaBen meditation offers you an opportunity to experience unique, memorable, and insightful experiences that will expand your consciousness.